By Emman Ovuakporie and Johnbosco Agbakwuru
ABUJA – THE leadership of the National Assembly has agreed to streamline the 2017 budget so as to tally with the priority projects of the executive.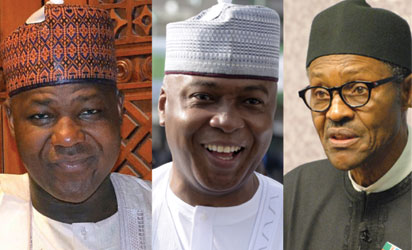 This was part of the outcome of the meeting between the Presidency led by the Vice President, Prof. Yemi Osinbajo and the leadership of the parliament led by the Senate President, Bukola Saraki and the Speaker of the House of Representatives, Yakubu Dogara during the Easter break.
Chairman of the House Committee on Media and Publicity, Abdulrazak Namdas who confirmed the meeting between the leadership of the National Assembly and the presidency, assured that as the House resumes sitting today, the budget will be given priority.
Namdas who represents Mayo Belwa/Ganye/Jada/Toungo Federal Constituency of Adamawa State said, "The topmost priority will be the passage of the budget. We want to ensure that in a few weeks, the budget will be passed.
"I can tell you that during the Easter break, the leadership of the National Assembly met with the Executive led by the Vice President over the budget so that budget will be streamlined in a manner that it tallies with priority areas of the Federal Government.
"And I can tell you that if this budget is passed, there will little or no issues with the executive implementing it."
On the concurrence of the bill, he said, "Well any bill that is passed by the Senate must be given concurrence by the House and vice-versa.
"But you also have to understand that the concurrence by either house of the National Assembly is not automatic, neither is the rule that the bill be passed the exact manner it was sent to either house.
"But what is important is that we will work hard to pass bills that will enhance good governance."
On the recent dissolution of ad-hoc committees by the Speaker, Dogara, he said, "The Speaker dissolved ad hoc committees but my understanding is that next action on investigations undertaken by these committees will either be taken over by standing committees or be re-assigned as decided by the leadership of the House.
"For ongoing investigations, I can tell you that we are committed to reaching tangible conclusions and this will be done in timely manner."
The post 2017 budget: Saraki, Dogara succumb to presidency appeared first on Vanguard News.