The Coach of Abubakar Bukola Saraki (ABS) Ilorin FC, Henry Makinwa, says the club is searching for new players to strengthen the team in the second stanza of the ongoing league season.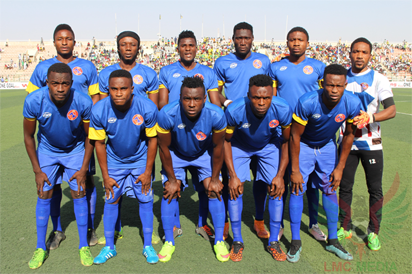 Makinwa stated this on Tuesday in Ilorin that the new players would replace those dropped at the beginning of 2016/2017 Nigeria Professional Football League (NPFL).
"It has been very difficult because we gambled with some players and the gamble didn't work.
"The gamble reduced our squad to a very small one. I had to make do with just about 15 players for the first stanza.
"We had to let six of the players leave because they were not too impressive.
"We are going to replace the dropped players and we are looking at almost every department," the ABS coach said.
The former Victoria De Setubal of Portugal and Real Sociedad of Spain attacker said the recruitment was part of efforts to reposition the club, also known as Saraki Boys.
He said the current players needed fresh breath from the coming players because of the tactics and rigour of playing football.
"And you know, we play week in week out and that really affected our performances at one time because the boys were tired.
"You play on Sunday and make over 700km journey the next day to play on Wednesday again you can't get the best of the boys like that.
"If you want to play for ABS you must give your 100 per cent because that is what is required of you.
"This is the reason we are giving the young ones a chance, so they can help send signals that they are ready to take over from the old ones," Makinwa said.
He said that he was comfortable with the club's 10th position on the table, adding that the club would work harder to achieve its aim for the season.
The coach assured that the team would sustain its NPFL status before setting new target in the coming seasons.
Recall that Makinwa helped the team gain promotion to the NPFL at the end of 2015/2016 Nigeria National League season.
The post ABS FC searching for new players, says coach appeared first on Vanguard News.