By AbduWahab Abdulah and Jane Echewodo
Economic and Financial crimes commission (EFCC), Monday arraigned three siblings Vincent Ayewah, Florence Ayewah and Emmanuel Ayewah, and four others before a Lagos High Court, Ikeja for allegedly defrauded Africa's richest woman, Mrs. Folorunsho Alakija of N3m through her Rose of Sharon Foundation.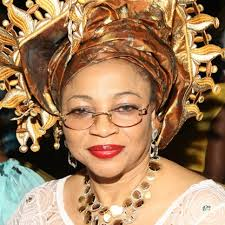 Those charged alongside the siblings include; Onuwa David; Okoronkwo Chikadibia; Ehizibolo George, Chinyere Awanah.
An operative of the Economic and Financial Crimes Commission (EFCC), Wasiu Ajisafe, after their arraignment informed the court that the anti-graft agency received a petition dated 15th November, 2012 from the foundation signed by its founder, Mrs Alakija, against one of its staff, Vincent Ayewah, on issues of stealing, forgery and impersonation.
Led in evidence by the prosecutor, the prosecution witness, Ajisafe informed the court that the Foundation, which is a non-profit making organization for empowering widows and awarding scholarship to orphans, hired Vincent to assist the project officer of the foundation in daily duties of attending to beneficiaries.
"Vincent, thereafter, connived with his two siblings who are also beneficiaries at the foundation, including friends, to forge staff Identity cards of the Foundation with different names so as to defraud the organisation".
" The agency, thereafter, received letters of the investigation activities from banks like Fidelity, Stanbic bank and others. In view of this, other suspects were arrested of which they volunteered their statements under caution.
The post African richest woman, Alakija, defrauded by Foundation staff appeared first on Vanguard News.