By Ben Agande
Kaduna—The Bishop of Catholic Diocese of Sokoto, Bishop Matthew Hassan Kukah, has said he felt demoralised and humiliated as a Nigerian to hear about billions of dollars being recovered by anti-graft agencies in the country.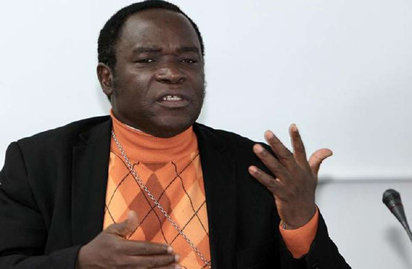 But the fiery clergyman also charged the agencies to be less dramatic in the discharge of their duties in order not to further violate the sensibilities of Nigerians.
Bishop Kukah spoke at the national anti-money laundering / counter-financing of terrorism sensitization seminar organised  by the Inter-governmental Action Group Against Money Laundering in West Africa, GIABA, in Kaduna.
He said: "I feel more demoralized and very humiliated as a Nigerian but the confusion is that we are dealing with monies that are of the size of budget of some African states.
"I think it's unthinkable that we are having such money running into billions of naira and we don't know who owned such monies. Frankly, if I were a foreigner, my respect for Nigeria will dwindle seriously.
"Even me as a Nigerian, I feel quite violated and I don't really know if all this theatre is the best way to go. I think the agencies concerned should have less dramatic but effective way of telling us the work they are doing, rather than this endless washing of linen whose owners we don't know. It's not helping the fight."
On the threat posed by terrorism, Kukah said Nigerians must stand together and protect human lives, irrespective of who the victims would were.
The Deputy Director General of the Inter-Governmental Action Group Against Money Laundering in West Africa, GIABA, Brian Sapati in his remarks, said it was the expectation of the organization that the seminar was a spring board for renewed commitment of all religious and opinion leaders to identifying key roles for raising awareness and shaping the morals of their congregations through the force of morals.
He said: "If we must rid society of these wrong doings, then we must continue to stand as the shinning light and examples which we are."
''We must resist all the negative influences and help in guiding the path of our followers in building a safe and secure society," he said.
The permanent secretary, Kaduna State Ministry of Finance, Idris Iyang, who represented Governor Nasir, el-Rufai,, said Kaduna State was worried about the level of hate speeches in the state and encouraged the religious to tread paths that would foster peace and unity in the state.
The post Be less dramatic in your work, Kukah charges EFCC appeared first on Vanguard News.