By Emma Amaize
BENIN— FORMER Provost Marshal, Nigeria Army, Brigadier- General Idada Ikponmwen (retd), yesterday, urged the Federal Government to put the suspended Secretary to the Federal Government, SGF, Babachir Lawal, and Director-General of the National Intelligence Agency, NIA, Ambassador Ayo Oke, in confinement to pave way for unhindered investigation.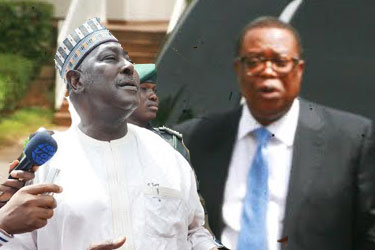 He said in a statement: "I opine that it is only normal and indeed necessary that anybody facing any serious investigation of any nature ought to be restricted in his or her movement in order to pave way for unfettered or unencumbered investigation.
"The failure to keep both Lawal and Oke in confinement as the present investigation is ongoing does not augur well for the present administration's anti-corruption stance.
"I have read reports credited to Col Abubakar Umar (retd). Without a doubt, Col Umar, who is my good friend, is entitled to his opinion as shaped by his perception of (past and ongoing) events. I am, however, unable to agree with Col Umar when he applauded the current administration and by implication, those handling the investigation of the IDP contract of about N220million  and the over N13billion found in the Ikoyi private building,  now being claimed by Ambassador Oke, as monies belonging to the Defence Intelligence Agency."
"It is my view that the matters under investigation are grave and, therefore, likely to involve some persons and organisations. This makes the interference by the principal characters with the on-going investigation a clear possibility. The practice in criminal investigation procedure is to do everything to foreclose or remove the possibility or likelihood of interference with serious matters under investigation," he added.
The post Confine suspended SFG, DG-NIA for unbiased investigation —Ikponmwen appeared first on Vanguard News.