By Babajide Komolafe
VICE PRESIDENT Professor Yemi Osibanjo yesterday called on banks in the country to support the Economic Recovery and Growth Plan (ERGP) of the federal government.
He made this call while speaking at the World Conference of Banking Institutes hosted in Lagos yesterday by the Chartered Institute of Bankers of Nigeria (CIBN).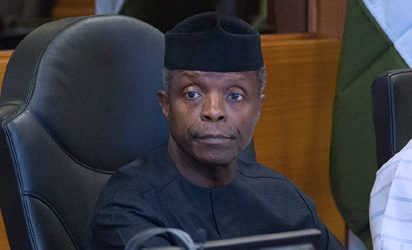 Represented by the Special Adviser to the President on Economic Matters, Dr. Adeyemi Dipeolu, Osibanjo said: "We expect that the banking and financial sector would support the national economic recovery and growth plan.'
"As most people already know, we recently released our economic and growth plan and its objective is to achieve sustainable inclusive growth and achieve a growth of 7 per cent per annum by 2020 by focusing on core principles growth on global economy existing constraints and working in partnership with the private sector.
"The banking and finance sector has a key role to play in supporting our dream. The banking sector is critical to the implementation of our plan. The private sector is expected to play a major part especially through public private partnerships. The banking and the financial sector will be leading sources of private capital expected to complement government investment.  "We expect that the banking sector support development financing by utilising the central bank of Nigeria MSME fund.
"The reality is that the huge sums of money involved in illicit financial flows which is contributing to rising inequality often happens through the financial system."
aligned to stimulate the economy and support growth while preventing overheating. "
In his welcome address, CIBN President, Professor Segun Ajibola, said that: "the theme of the Conference – Rethinking the Future of Banking and Finance and Life-Long Learning – is highly germane to our current experiences in the global banking space."
He said that the theme was informed by the need for, "stakeholders in the banking and finance sector coming together to develop new strategies that would not only meet the present demands for financial products and services but would also look into the future and prepare for the technological and demographic disruptions that are bound to redefine banking and the skills required of bankers within the next few years.
"This also calls for a revisit of the different curricula at our tertiary institutions on the teaching of banking and finance and other allied courses. These essentially encapsulate the primary objectives of this 4-day Conference that would feature top professionals from different parts of the world as discussants on the carefully selected sub-themes of the Conference."
The post FG seeks banks' support for economic recovery, growth plan appeared first on Vanguard News.