French voters flocked to the polls under heavy security Sunday in the first round of a cliffhanger presidential election seen as vital for the future of the ailing European Union.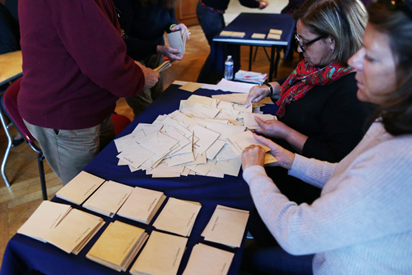 Far-right leader Marine Le Pen and centrist Emmanuel Macron are the favourites to progress to a run-off on May 7 but late gains by conservative Francois Fillon and radical leftist Jean-Luc Melenchon blew the race wide open.
Le Pen, the 48-year-old leader of the anti-immigration National Front (FN), hopes to capitalise on concerns about security that were catapulted to the fore of the campaign after the killing on Thursday of a policeman on Paris's Champs Elysees avenue. The Islamic State group claimed the attack.
Nearly 47 million people were eligible to vote in the eurozone's second biggest economy.
Most polling stations closed at 1700 GMT but voters in Paris and other big cities had an extra hour to make their choice. The first projections based on partial results are expected at 1800 GMT.
Voting was brisk on a bright spring day, defying forecasts of a low turnout after a campaign dominated by scandals and disillusionment with the mainstream parties of the left and right that have alternated in power for the past half century.
After nine hours, turnout stood at 69.42 percent, one of the highest levels in 40 years. With an extra hour of voting planned in smaller towns this year, pollsters predicted the final figure would be about 80 percent.
Riding the wave of disaffection with globalisation that carried Donald Trump to the White House and led Britain to vote for Brexit, Le Pen vowed to abandon the euro, hold a referendum on withdrawing from the EU and adopt a French-first policy on jobs and housing.
While constitutional obstacles would make it difficult for her to uncouple France from the EU, a Le Pen victory could nonetheless be a devastating blow for the EU, already weakened by Britain's shock vote to leave.
Macron, a 39-year-old pro-EU reformer, is seeking to become France's youngest ever president despite never having held elected office.
Tapping into anger with established parties, the former banker and economy minister formed his own movement, "En Marche" (On the Move), that he says is "neither to the left nor to the right."
But polls show the scandal-tainted Fillon, a former prime minister, and eurosceptic firebrand Melenchon, who wants to renegotiate EU treaties, also in with a fighting chance.
Le Pen cast her ballot in Henin-Beaumont, a former coal mining town in the party's northern heartland.
Macron voted in the chic northern seaside resort of Le Touquet with wife Brigitte, his former high school teacher who is 25 years his senior. Fillon and Melenchon both voted in Paris.
Many voters had spent weeks agonising over their choices, with many opting for the contender they considered likeliest to beat Le Pen in a run-off.
– 'Can't trust politicians' –
With France still under the state of emergency imposed after the Paris attacks of November 2015, security was tight. Around 50,000 police and 7,000 soldiers were deployed to guard voters.
Thursday's shooting on the most famous street in Paris was the latest in a bloody series of terror attacks that have cost more than 230 lives since 2015.
In the aftermath of the Champs Elysees attack, Le Pen called for France to "immediately" deport all foreigners on a terror watchlist.
Guy Belkechout, a 79-year-old pensioner who was voting in the working-class Parisian suburb of Trappes, said security was one of his main concerns.
"Candidates who want fewer security measures, who want to reduce the police's powers, have not got my vote," Belkechout told AFP.
But Hajar Erhamani, a 39-year-old teaching assistant from the well-heeled Paris suburb of Sevres, said she was more worried about the economy and allegations about lawmakers lining their pockets with public money.
"You can't trust politicians these days. On the left and the right, they're stealing from us," she complained.
– Fake jobs scandal –
Closely watched around the world, the French campaign has been full of twists and turns.
A race that began with the low-key Fillon trumping ex-president Nicolas Sarkozy for the right-wing nomination shifted into higher gear when unpopular Socialist President Francois Hollande decided not to seek re-election.
Hollande's five years in office have been dogged by a sluggish economy and the constant terror threat.
With voters hungry for change Fillon had been seen as a shoo-in but in January he was knocked off course by allegations that he gave his British-born wife a fictitious job as his parliamentary assistant for which she was paid nearly 700,000 euros ($750,000).
The Socialist nominee Benoit Hamon also struggled, hemorrhaging support to the fiery Melenchon.
Though there are four main contenders in the election, a total of 11 candidates are taking part.
The post France votes in high-stakes presidential election appeared first on Vanguard News.