By Bashir Bello
KATSINA – United Nations Children's Funds, UNICEF and Katsina state government, through the primary health care development agency strategies toward attaining behavioural change in best health practices at the grassroots of the state.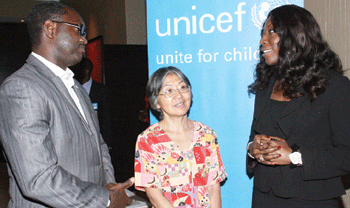 The State Health Educator, Hajiya Binta Hussain disclosed this during the distribution of media equipment ahead of the commencement of an expanded existing viewer listeners club (VLC), a community participation program aimed at educating and sensitizing communities.
Hajiya Hussain said the tremendous impact recorded from the program has led to its expansion from 9-48 VLC across 12 Local Government Areas of the state.
She said expanding it Viewer/ Listener's Club, VLC to Forty – Eight across the 3 Senatorial Zones is to bring about behavioural change and development improvements because they empower community members to take positive actions towards addressing community health issues such as poor health awareness, rumour mongering, vaccine safety concerns.
"The main trust of the program was to generate information, promote local knowledge and encourage information sharing, especially to benefit communities with limited access to the media.
'"To publicise community oriented solutions, community inspired recommendations and community action via broadcast to the wider broadcast to public so as generate greater community interest and support" Hajiya Hussain however said.
The post Health: UNICEF, Katsina Govt. strategies towards behavioral change appeared first on Vanguard News.