By Henry Umoru
ABUJA- SENATOR Peter Nwaoboshi, PPD, Delta North said Tuesday that he welcome investigation being carried out on the alleged purchase of the 12-storey building in Lagos and supply of equipment by the Economic and Financial Crimes Commission, EFCC, just as he said that the outcome at the end of the day, would clear him of acquiring the property through any fraudulent means.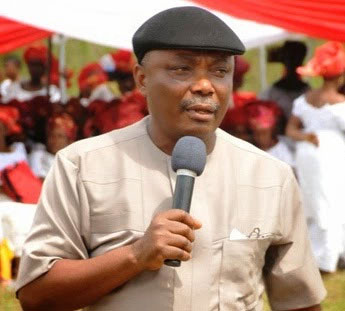 Senator Nwaoboshi who is the Chairman, Senate Committee on Niger Delta Affairs, however denied reports indicating that the EFCC has secured a forfeiture order from a Federal High Court in Lagos on his 12-storey Lagos building at 27 Marine Road Apapa.
According to the Senator, the anti-graft agency has not in any way secured an order from the court legalizing the seizure of the said property as erroneously reported and illegally being carried out by it, just as he said that the order EFCC got from a Lagos High Court on the Property was an attachment and not a forfeiture order as being presented to the public.
Nwaoboshi's clarification on the reports published by some of the national newspapers yesterday was made in a statement issued by his senior media assistant, Onyeluka Igbonoba.
The statement read in full, "The attention of Distinguished Senator Peter Nwaoboshi, the Senator representing Delta North Senatorial District of Delta State, has been drawn to media reports on a ruling by a Federal High Court in Lagos which granted an attachment order on a property situate on 27 Marine Road, Apapa, Lagos. For the purpose of clarification, the media team of distinguished Senator Peter Nwaoboshi would want the Nigerian public to take full notice of the following facts:
"That the said property was not seized as erroneously reported. But attached, pending investigation.
"That EFCC has since one month ago sealed the said property without a court order.
"That distinguished Senator Peter Nwaoboshi welcomes EFCC investigation into the alleged purchase and supply of the equipment.
"That it is surprising that EFCC could sneak into a Federal High court in Lagos to obtain the said order after entering unconditional appearance through their lawyer, Yetunde Alabi, appeared before the Federal High Court in Asaba on the 13th of April 2017 on the same subject matter, and pleaded with the court for adjournment, which the court graciously granted and adjourned to 25th of April 2017 for hearing. The same EFCC, through their lawyers, filed their brief of argument on Friday 21th of April, 20l7, and also filed their counter affidavit on the 24th of April, 2017, for hearing on the 25th of April 2017, in the suit filed by the companies against EFCC on the same subject matter.
"Finally, distinguished Senator Peter Nwaoboshi hereby appeals to his supporters and well-wishers to remain calm and law abiding; having confidence in God and believing they will laugh last."
The post I welcome EFCC'sprobe into alleged purchase and supply of equipment – Nwaoboshi appeared first on Vanguard News.