hobnobs with DSS boss after Jummat prayer
By Levinus Nwabughiogu
ABUJA-Apparently determined to conclude its assignment before the expiration of the 14 days ultimatum, the 3 man committee set up to investigate Babachir Lawal and the Ayo Oke met on Friday.
Lawal and Oke who were hitherto the Secretary to the Government of the Federation, SGF and the Director-General of the National Intelligence Agency, NIA respectively were suspended from office on Wednesday by President Muhammadu Buhari following their indictment in corruption allegations.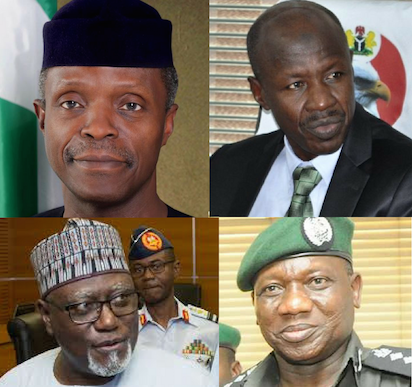 While Lawal was alleged to have concerned a large chunk of the money appropriated for the welfare of the Internally Displaced Persons, IDPs through a grass-cutting project of the Presidential Initiative on North East, PINE, Oke got trapped in the $43m found by the Economic and Financial Crimes Commission, EFCC in Lagos recently as his agency was the first to claim ownership of the money.
In its Friday meeting, the panel headed by Vice President Yemi Osinbajo and had the National Security Adviser, NSA, Babagana Monguno and the Attorney-General of the Federation, Abubakar Malami as members also summoned the acting Chairman of the EFCC, Ibrahim Magu just as it did on its Thursday session.
Leaving off the meeting after about two and half hours, Magu who came out first declined to answer questions put to him by Journalists.
"Wait for him, I am coming back now", he simply said as he exited Osinbajo's office at the Presidential Villa.
Minutes later, the Attorney-General was seen coming down from the Vice President's office.
But he, too, wouldn't speak to Journalists on the outcome of the meeting.
"Go and speak to the Chairman", he said while walking out of the Villa premises.
Meanwhile, the DSS Director-General, Lawal Dauru whose office issued a damning Security report that stalled the confirmation of Magu by the Senate was seen at the Presidential forcourt after worshiping at the State House mosque on Friday hobnobbing with the EFCC boss.
As at press time, Magu never returned to the Villa to meet with Journalists as he promised.
The post Ikoyigate: Again, Magu meets Osinbajo's committee at Aso Villa appeared first on Vanguard News.