Nigerian Corporate Icon and now Lead Coach, Joke Coker (JC), has received the Women of the Year Circle Award from the National Association of Professional Women, USA, for her outstanding excellence as an executive life Coach and Neuro-linguistic programming (NLP) life trainer with Constellation coaching group.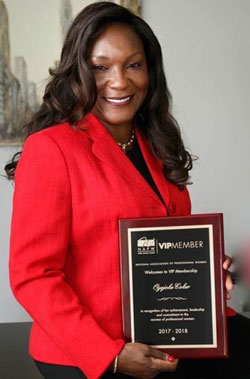 With a membership tallying over 850,000; The National Association of Professional Women, NAPW, ranks as the largest conglomeration of professional women in the United States.
This recognition would see Oyejoke Coker joining the women of the year circle, an Elite VIP membership within the Association modeled to showcase women who have achieved exceptional success within their career, broken boundaries in male-dominated industries and have been benevolent to the society.
Lynda McKenzie, Membership Specialist, NAPW, while commenting on the association's recognition of Coker, said: "Her career has been focused on helping her clients secure an empowered future. She has been nationally recognized for her accomplishments."
A leading member of NAPW, Kim Bradford also quipped, "Oyejoke is a shining star with an amazing insight in her expertise, coaching and NLP (making her an) amazing trainer and Life Coach."
This is another stride accomplished by Mrs. Coker, having sailed through the coastal waters of the Nigerian Corporate Sphere for over 25 years at management level, some of which include; GTB, MTN and MoneyGram International.
She is currently the Lead Coach at Constellation Coaching Group, a position from which she regularly impacts on Corporate Nigeria as a thought leader of reckon in Executive coaching, Advanced Negotiation Training, Sales force NLP training, Life coaching, Employee motivation, Self-mastery, Team coaching, NLP coach training, among others.
The post Joke Coker wins US Professional Women Award appeared first on Vanguard News.