BY UGOCHUKWU ALARIBE
ABA-There was jubilations in Aba, Abia state, today, as news filtered in that leader of the Indigenous People of Biafra, IPOB, Nnamdi Kanu, have been granted bail by the Federal High Court, Abuja.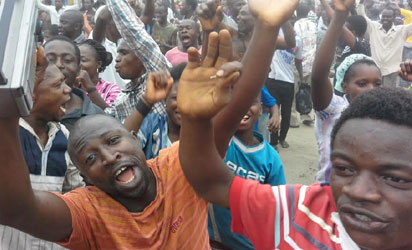 It was celebrations galore as youths and women took to the streets chanting pro Biafra songs and singing Kanu's praises. At the Flyover junction, Asa Nnentu, along the Enugu –Port Harcourt expressway, suspected IPOB faithful numbering over 15,000, lined the highway with green leaves waving at motorists.
The jubilations were peaceful as they sang praises to God over the development, and stated that they are behind Kanu and urged him not to be deterred by his detention by the federal government.
A cross section of members of the group who spoke to Vanguard along Umuocha road, Aba, described Kanu as a freedom fighter who is committed to the liberation of the Biafra people.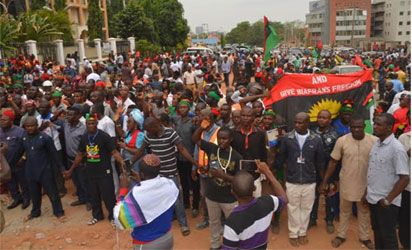 They commended the court for granting him bail and urged the federal government to stop harassing him as Kanu cannot be intimidated into abandoning the struggle for an independent state of Biafra.
The IPOB faithful warned those they described as enemies of Biafra to change their ways or face the wrath of the Biafra people.
The post Jubilation in Aba as Kanu regains freedom appeared first on Vanguard News.