By Nwafor Sunday
The Federal High Court in Abuja that granted the leader of the Indigenous people of Biafra (IPOB), Mazi Nnamdi Kanu, bail, through its preceding officer Justice Binta Nyako, on Tuesday issued conditions said by public's to be stringent, unconstitutional, unacceptable and improper in a constitutionally recognized and democratically practiced country like Nigeria.
Not quite some hours ago, Nnamdi Kanu was reported by newsmen to have been granted bail along with his cohorts in Bayelsa state. It is imperative at this point to file up mixed reactions of people over the bailing conditions of Nnamdi Kanu, but first the conditions.
Trial Justice Binta Nyako said her decision to release Kanu on bail was based on health grounds. This means that Kanu is sick and if he had not been ill he wouldn't have been granted bail by the court.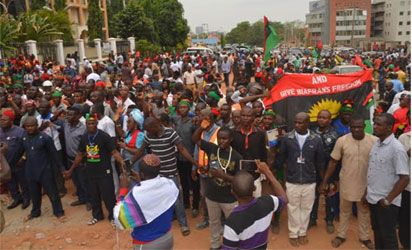 Similarly, that Kanu should provide a highly respected and recognized Jewish leader as a surety to deposit N100million. That's a huge sum of money to provide in an economic recovery country like Nigeria.
In addition to the above it is required that Kanu provides another two sureties of "highly placed person of Igbo extraction such as a Senator", as well as "a highly respected person who resides and owns landed property in Abuja".  These two mentioned people are equally meant to deposit N100million each. A rhetoric I moan how possible is this possible?
Furthering Kanu's conditions of bail, Justice Nyako breached his constitutional right to associate with people, thus allows him for a dyadic association (not more than 10 persons). According to Justice Nyako "I must stress it here that the defendant must not attend any rally. He must not be in a crowd exceeding 10 persons."
Mixed feelings and peoples reactions:
At Umuahia, it was reported that the father of leader of Indigenous People of Biafra, IPOB, His Royal Highness, Eze Israel Kanu with his wife Ugoeze Sally Kanu, have rejected the bail conditions given by Justice Binta Nyako of the Abuja High Court to free his son, Mazi Nnamdi Kanu, saying Kanu should be released unconditionally. On the other hand they expressed their happiness over the bail granted to their son and urged their son not to relent in his fight to gain Biafra. According to the mother, "No retreat, no surrender; God will deliver Biafra as He delivered Israel."
Meanwhile the leader of MASSOB, Comrade Uchenna Madu, expressed his happiness over Kanu's bail and calls it 'The beginning of the triumphant glory of Light over Darkness'. He equally admonished Kanu, IPOB and MASSOB memebers not to relent in their quest to get Biafra stand as a country.
According to him "As the people of Biafra erupted in jubilation all over the world in celebration of triumph of light over darkness, it shows that we are more united in our pursuit for Biafran actualization and restoration irrespective of our different organizations.  We know that freedom can never be achieved on a platter of gold.
Furthermore, the Chairman of South East Caucus of Interparty Advisory Council, IPAC, Prince Emeka Okafor while welcoming the bail rejected the conditions attached to it, saying that it amounts to denying him his fundamental rights.
In Aba newsmen report that it was a celebration galore as youths and women took to the streets chanting pro Biafra songs and singing Kanu's praises. At the Flyover junction, Asa Nnentu, along the Enugu –Port Harcourt expressway, suspected IPOB faithful numbering over 15,000, lined the highway with green leaves waving at motorists.
Their joy was reported to knew no bound as they chanted peacefully to Kanu's bail singing and ruining the streets of Aba.
Finally, they commended the Abuja High court and the preceding office Nyako for granting  Kanu's bail and urged the Federal government to stop harassing Nnamdi Kanu.
The post Kanu's bail conditions and mixed reactions appeared first on Vanguard News.