The Lagos State House of Assembly has called on the Commissioner for the Environment, Dr Babatunde Adejare, to direct the environmental task force and other relevant agencies to remove traders transacting business between Okokomaiko and Volkwagen bus stops along Lagos Badagry Expressway.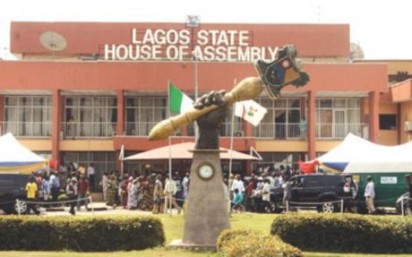 The House, during plenary on Tuesday, said the step had become imperative in order to bring sanity to the area.
This followed a motion moved by a member representing Ojo 1, Mr Victor Akande, and seconded by Mr Gbolahan Yishawu, representing Eti-Osa II.
Akande said that the government needed to checkmate the unruly activities of traders in the area.
"I have once raised this issue on the floor of this House, it is only the state government, through the task force, that can force these traders off the road," he said.
The lawmakers took turns to condemn the menace of traders on Lagos-Badagry Expressway, specifically at the bus stops.
They said that if the situation was not urgently addressed, it could create havoc and in turn destroy the mega-city plan.
A member representing Ifako/Ijaiye II, Mr Rasheed Makinde said: "Despite the huge resources pumped into the state to have a safer and cleaner Lagos, some people are still making efforts to destroy it with their attitudes.
"Some of these people are from Benin Republic. The task force should be stationed in that area for three months, and in that way, they will be chased away.
"We should be mindful of the security of Lagos."
He said that agencies such as Lagos State Traffic Management Authority (LASTMA), Task force on environmental offences, Rapid Response Squad (RRS) among others would be needed.
Another lawmaker Mr Olayiwola Olawale, representing Mushin II, said that the situation had even forced motorists to be plying one way.
"What we see at these bus stops is an eyesore," Olawale said.
Responding, the Speaker of the House, Mr Mudashiru Obasa recalled the ordeal of some lawmakers at the bus stops recently, on their way to Badagry on official assignment.
Obasa said the road was blocked for hours, which hindered smooth traffic operation.
"This is not what we want in Lagos and it is time for us to act fast. It is important for us to urge the Commissioner for the Environment to, as a matter of urgency, force these people off the road.
"If we can bring sanity to Oshodi, I believe bringing sanity to that area is not out of place", he said.
The House adjourned its plenary session until Thursday.
The post Lagos lawmakers condemn trading on Lagos-Badagry Expressway appeared first on Vanguard News.