The naira Tuesday depreciated to N374.96 per dollar in the newly introduced investors and exporter foreign exchange window.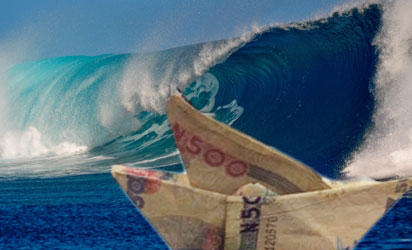 Meanwhile the naira was stable in the parallel market exchange rate yesterday where the exchange rate remained N382 per dollar.
The Financial Market Dealers Quote (FMDQ), the Nigeria Autonomous Foreign Exchange Rate Fixing (NAFEX), its benchmark rate for the investors' forex market, opened yesterday at N374.25 per dollar and closed at N374.96 per dollar.
This represented 22.6 per cent depreciation when compared with the interbank exchange rate of N305.9 per dollar for spot transactions.
Meanwhile the Central Bank of Nigeria (CBN) intervened in the new market Tuesday selling $25 million.
Acting Director Corporate Communication Department, CBN, Mr. Isaac Okoroafor, disclosed this in a statement stressing that the window was established to boost liquidity in the forex market and ensure timely execution and settlement for eligible transactions.
According to him, transactions under the new window include invisible transactions such as loan repayments, loan interest payments, Dividends/Income Remittances, Capital Repatriation, Management Service Fees, Consultancy fees, Software subscription fees, Technology Transfer Agreements, Personal Home Remittances and any such other eligible transactions including 'miscellaneous Payments' as detailed under Memorandum 15 of the CBN Foreign Exchange Manual. It, however, excludes international airlines ticket sales' remittances.
On the role of the apex Bank in the market, Okorafor said the CBN would be a market participant at the window to promote liquidity and professional market conduct.
Meanwhile, interventions of the CBN in the investors' and exporters' forex window appear to have impacted positive on the Nigerian stock market with stocks recording spikes. Industry watchers also believe that the new CBN window for investors and exporters will boost production with its attendant net effect of employment.
The CBN on Tuesday also announced that authorised foreign exchange dealers were unable to subscribe fully to the $150 million offered by the Bank at the forex auction in the interbank wholesale window on Monday, April 24, 2017.
According to Okorafor the authorized dealers were only able to subscribe to the sum of $96.37 million in the inter-bank market on Tuesday, April 25, 2017.
While confirming the development, Okorafor did not disclose reasons for the inability of the authorized dealers to fully subscribe to the CBN offer in the inter-bank market.
The post Naira Watch: Naira falls to N374.9 in investor's forex window appeared first on Vanguard News.