…Saraki urges senators to always relax because of stress
By Henry Umoru, Emman Ovuakporie & Johnbosco Agbakwuru
ABUJA—THE Senate will today hold a valedictory session for late Senator Isiaka, Adeleke (APC, Osun West), who died last  Sunday.
The Senate observed a minute silence in his honour, just as the lawmakers in honour of their deceased colleague, suspended all other businesses at yesterday's plenary and subsequently went for the signing of the condolence register.
This is as the House of Representatives also yesterday adjourned plenary as a mark of respect to honour the late Senator Adeleke.
Late Senator Adeleke was until his death, chairman, Senate committee on Capital Market, and  a member, Senate committees on FCT; Marine Transport; Defence and Establishment and Public Services.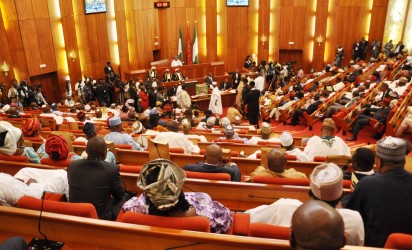 The adjournment of yesterday's plenary, followed a motion by Senate leader, Senator Ahmad Lawan.
According to Lawan, it is the practice of the National Assembly to always show respect to a deceased member by adjourning plenary.
Senator Lawan said:  "Mr president, distinguished colleagues, it is the practice and convention of this Senate and, indeed, the National Assembly, to always show respect and honour our dear colleagues by adjourning our plenary.
"I will, therefore, move that because of the death of our colleague which took place early morning  on Sunday that this Senate observes a one minute silence and, thereafter, adjourn till tomorrow, April 26, 2017.
"Tomorrow ( today) by the grace of God, our colleagues will have the opportunity to pay tributes to our departed colleague in a valedictory session. I, therefore, move that we observe a one minute silence and then adjourn thereafter."
Senator Philip Aduda (PDP-FCT) seconded the motion.
In his remarks, President of the Senate, Bukola Saraki, who agreed that a valedictory session be held in honour of the late Adeleke, urged his colleagues to ensure they dressed appropriately.
A minute silence was held in honour of the deceased and a condolence register was opened for lawmakers to write their tributes.
After signing the register, Saraki described the death of Adeleke as shocking to all the lawmakers.
"I have known him for many years. He was a very patriotic, grassroots politician who had great love for his people. He was very friendly in the chambers and loved by everyone. His contributions to our debate were that of a statesman. He was a true Nigerian,'' he said.
On his part, Senate Chief Whip, Olushola Adeyeye, APC, Osun Central, urged senators to live their days well and apply their hearts to wisdom.
He said:   "There is only one life and when it expires, all you get from anybody is a minute silence.
Also speaking, Sen. Binta Masi (APC-Adamawa) said the deceased was a very good fellow, adding  ''we will miss him because he has created a vacuum; death is inevitable.''
She prayed God to grant the family peace and the fortitude to bear the loss.
Similarly, Sen. Monsurat Sunmonu (APC-Oyo) described the late Adeleke as an epitome of humility.
Meanwhile, the House of Representatives yesterday adjourned plenary as a mark of respect for the late Senator Isiaka Adeleke who joined his ancestors at the weekend.
Before the adjournment, the speaker, Yakubu Dogara, allowed a few members to make tributes to the late lawmaker.
Speaking in an emotion laden voice, the Deputy Speaker, Yusuf Lasun, stated that the late senator became the governor of Osun State at the tender age of 37 years when his mates were still grappling to find their feet.
The late Adeleke, who he said was close to his family, visited his father about 48 hours before he died, adding that Adeleke came and saw but couldn't conquer because of death.
He described the senator as a trailblazer who towered above others in the field of politics, business and philanthropy.
He said: "Adeleke was the son of a former senator who became governor at a tender age of 37 when many of his contemporaries were still trying to find their way in life."
"He was later elected as a senator. He, therefore, didn't betray the legacy left behind by his father, Senator Ayoola Adeleke."
Lasun, who is also from Osun State, said Adeleke's style of politics led to his remaining cordial with him and the entire Yussuff family.
Presenting the death of the senator earlier, the member representing Ede North/Ede South/Egbedore/Ejigbo Federal Constituency of Osun State, Alabi Mojeed, in a point of order, described the passage of the senator as a great loss to the country.
"He came to this world and saw and conquered. He is a political icon of no mean repute,'' he said.
The post Senate holds valedictory session today in honour of late Senator Adeleke appeared first on Vanguard News.