By AYO ONIKOYI
Virgin singer and Jombolo crooner, Adokiye Kyrian has never hidden her feelings, especially, things she's very emotional and passionate about. On Wednesday the singer went all out in what could be described as emotional theatrics to wish a friend, Ibinabo Oruitemeka, a happy birthday.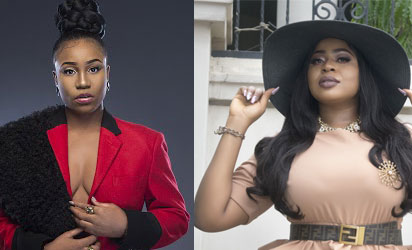 Adokiye gushed and nearly confound our ears with praises for the friend, who is the Chief Executive Officer of SharkHouse101, a bubbly seafood house, offering ocean fresh seafood, spices and farm produce.
In her message, she writes: " IB, as you are popularly known, you are the best friend anyone can think of having. Over the years, I have known you to be very selfless, hardworking and a go-getter. It still beats my imagination to know that you are one friend I know that never indulges in gossip or any form of derogatory means that questions your integrity.
I have had friends who I thought somehow would fight or stand for me behind but got disappointed at the end but IB, I have never had a case like that for no reason with you. You have always wished me well, you have believed me where others doubted me, you have encouraged and supported me.
Most especially, apart from my sweet mother, your food is the next sweet thing in the world, that's how I believe your restaurant will blossom because no food can taste like yours.
I love you so much and pray God continues to bless and enlarge your coast, also wish for you a decent and God-fearing man as husband, that's why I would drop your contacts for potential suitors to contact you, I hope you don't kill me for this : 08033400332
The post Singer Adokiye seeks suitors for friend, wishes her happy birthday appeared first on Vanguard News.