By Dele Sobowale
The naira rises by N12 to N385/$.
Babajide Komolafe, VANGUARD, April 20, 2017, p 5.
THOMAS Hardy, 1840-1928, great British writer, once said that "a pessimist is the person who looks at the worst possible contingencies." (VANGUARD BOOK OF QUOTATIONS, VBQ, p 186). No Federal Government official has been plagued by more pessimists in the last two years, but especially since January this year, than Mr Emefiele, the Governor of Central Bank of Nigeria.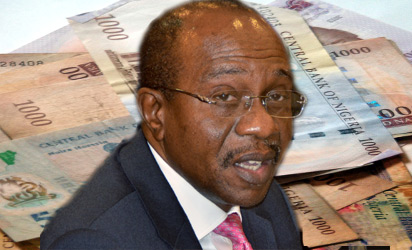 No current Minister handling any portfolio has had the dubious privilege of having his two predecessors in office mount such a blistering attack on his policies as Professor Charles Soludo and Emir Sanusi had done on the poor current holder of the national purse.
They were not alone. Experts including the "usual suspects" – Bismark Rewane and our own Henry Boyo, as well as some unknown critics gave the impression that the man did not know the first thing about   banking. From some of the criticisms leveled against him, the CBN Governor is either a bumbling fool, or a saboteur or both.
The "Group of Seven", tagged that just to save the trouble of naming them one by one, had an Advertorial published in VANGUARD on February 27, 2017, titled AN OPEN LETTER TO CENTRAL BANK GOVERNOR GODWIN EMEFIELE REQUESTING FOR HIS RESIGNATION represents the position of most pessimists and those who would want Emefiele to accept their policies or resign or get sacked. Never mind the impudence involved in people who were not involved in appointing an employee and whose opinion was never sought and never will be, requesting for his resignation. This is Nigeria where bad manners know no limits. They wanted the CBN Governor to go unless he agreed to allow the market to determine exchange rates.
Before them, His Royal Highness, Sanusi, sounding increasingly like a candidate for office in 2019, had made the point that the exchange rate which was then on an upward climbing escalator would never come down as long as the CBN maintained three or four exchange rates. There were other reasons why people wanted the man to go.
The majority of commentators followed the direction of the critics and the exchange rates went from N400 to N450 to N500 and then peaked at N520 per dollar. But, some of us were not convinced that they got it right. My own instincts always tell me that "When all think alike; none thinks very much." (Walter Lippmann, 1889-1974, VBQ p 245). It was for the same reason that the Fake News about a RANGE ROVER costing N370m or N298m, depending on whose falsehood you chose to believe, imported for the Senate President, Bukola Saraki never made sense to me. For weeks, nothing else was discussed in Nigeria. Erudite individuals, respected columnists, the usual Senior Advocates of Nigeria, SANs, radio show participants etc blasted the Senate and Saraki. But, there was no N370m or N298m RANGE ROVER. The vehicle in question was imported in 2015, not 2017, at $298,000 with N150/US1 and the Customs kept quiet until 2017 out of deliberate mischief. Today, the story is all forgotten. So, there was a need to step back and do some independent thinking.
In a rejoinder to the advertorial by the Group of Seven and others, the following observation was made. Starting by pointing out that Nigeria's rising exchange rate was caused almost exclusively by scarcity of dollars, and that Nigeria had the lowest Sovereign Wealth Fund, SWF, balance of all major oil producers, it was predicted that without leaving the exchange rate solely to the market, the CBN can bring down the escalating exchange rate by pumping in more dollars. That was in February. Please read on.
One "Know-Nothing" Governor of a South West State for political reasons even announced that the exchange rate would go as high as N1000/US1. Well, what can one expect of an HND holder? Less than  $1  billion has so far been released to the market and rates have tumbled to $385/US1. If Emefiele has up to  $2  billion to shovel into the market, mass suicide will follow among currency speculators. The rich also commit suicide; especially those who have over-exposed themselves financially.
Meanwhile, the downward trend occurred despite the multiple exchange rates and refusal of the CBN to surrender its judgment to the "market". In short, CBN rejected the advice of the "experts" and still won the contest of wills.   One question most people must be asking is: why was the reversal so sudden? Part of the answer is making the front page news these days.
Most of the naira chasing dollars were from illicit sources – cash stored in houses, graveyards, backyards and false wall panels. The discovery of some funds must have prompted some people to want to change naira to dollars at any rate because green backs are more compact and easier to conceal.
The principles of supply and demand break down when desperate people are prepared to buy a commodity – including dollars – at any rate. That is not how reasonable people behave. Yet, the market is meant for reasonable people.
That is the secret of Emefiele's success and the pessimists are annoyed. Too bad isn't it?
The post The CBN is winning but pessimists still complain appeared first on Vanguard News.