By Levinus Nwabughiogu
ABUJA—Vice President Yemi Osinbajo has said that Nigeria was better off staying together as one, united and indivisible nation than disintegrating into small units.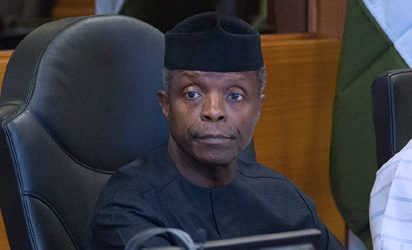 Osinbajo, who made the observation while playing host to Arewa Consultative Forum, ACF, in his office at the Presidential Villa, Abuja Tuesday, said those yearning for secession were ignorant of the implication of their struggle.
The vice president appealed to well-meaning Nigerians to ignore those who saw no good in the unity of the country.
He said: "A lot of those who say we are better divided as a nation, don't understand that the greatness of this country lies first in its diversity and then its size.
"It is better to be a part of a great thing than to be one tiny part of something that is not necessarily great.
"So, I think that we must not allow those who advance personal causes to defeat the very strong objectives of bringing this country together as a nation and forging ahead.''
He told the delegation that President Muhammadu Buhari was one leader who possessed the willingness and passion to ensure the country remained united.
He added that the President had shown that the country had men who were determined to remain honest, straight forward and able to speak their minds without deceit.
Osinbajo, who was presented with publications of ACF by the Deputy Chairman and leader of the delegation, Alhaji Musa Liman Kwande, also expressed support for the proposed security summit being organized by the Forum.
He also underscored the importance of the security summit at this time in the nation's history, noting that the security of the nation was a very important one.
The post We're better off together as one nation — Osinbajo appeared first on Vanguard News.