According to promoter Eddie Hearn of Matchroom Sport, there was a near brawl last month between IBF, IBO, WBA heavyweight champion Anthony Joshua and retired former beltholder Vitali Klitschko – in the aftermath of younger brother Wladimir Klitschko's stoppage loss to Joshua before a record crowd of 90,000 at Wembley.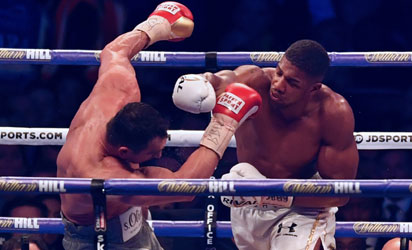 Apparently, Joshua and  Vitali had words when Joshua came over to speak to Wladimir when the contest concluded.
"Once he's in that mode, he's a nasty, horrible man in that ring. Outside the ring, one of the nicest guys you could meet, inside it – horrible. He and Vitali nearly came to blows after the fight. He went over to Wladimir and thanked him and Josh was tired and he went on and on, 'seriously man,' talking about the fight, and Vitali was like 'alright, alright' [Hearn stretches his arm across as if pushing someone away] and Josh was like 'f*** you.' But Vitali can handle himself, he's not exactly a pushover," Hearn told  Boxing News.
The post Joshua, Klitschko nearly fought after fight — Hearn appeared first on Vanguard News.