By Victor Ahiuma-Young
THE Iron and Steel Senior Staff Association of Nigeria, ISSSAN, and its Steel and Engineering Workers Union of Nigeria, SEWUN, counterpart, have raised the alarm over perceived untold hardship, suffering and dehumanization of defunct Delta Steel Company, DSC, workers in the last five years of closure. SEWUN and ISSSAN have, therefore, rejected the 25 percent terminal benefits to the workers contrary to 100 percent allegedly agreed by the unions and the Assets Management Company of Nigeria, AMCON, through its Receiver/Manager.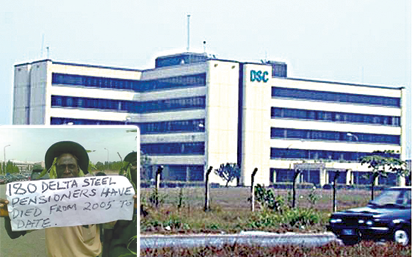 The two unions speaking through the acting general secretary of ISSSAN, Comrade Adewale Okeshola, said the over 1500 workers of defunct DSC had suffered untold hardship and all form of dehumanization as a result of the closure of the Company over five years ago and its subsequent take over by AMCON. SEWUN and ISSSAN, recalled series of attempts by AMCON to get a genuine investor to take over the company until the present investor showed interest.
Backlog of salaries and allowances
According to them, before the company could operate, all industrial issues needed to be settled, especially backlog of salaries and allowances of workers must be settled.
Okeshola said, "Within this period of closure, workers have been exposed to untold hardship; many are dead, as a result of hunger, sickness and many homes broken due to lack of means of livelihood. The workers were relieved when AMCON appointed Mr. Joseph Nwobike (SAN) as Receiver/Manager to carry out all functions to manage the company including working out the calculation of the actual amount owned each worker.
The two unions, ISSSAN and SEWUN entered into negotiation with the Receiver/Manager upon his appointment by AMCON where 100 per cent of the workers terminal benefits was agreed to be paid. Immediately after those meetings AMCON reneged on the agreement reached through the receiver/manager. We later gathered that AMCON through the receiver/manager had started holding meetings with some disgruntled elements within the workforce in DSC who paraded themselves as working for the interest of the workers who have suffered delay in the payment of their salary for over five years now. These group, we gathered, entered into an unholy alliance with the management to short change the workers in the payment of their terminal benefits."
Okeshola noted that SEWUN and ISSSAN remained undaunted in making sure that no worker was cheated or short changed. He lamented, however, that "we were reliably told that negotiations were going on by faceless groups who are not members of the executives of any of the two unions in the Steel sector- ISSSAN and SEWUN, with management of DSC. At the end, we were informed that workers would be made to collect an unacceptable 25 per cent of their terminal benefits.
"After a protracted wait and pains experienced by the workers, we were shocked that the workers have been paid 25 per cent of their entitlements as final payment. This is not only a far cry from the agreement reached between the two unions and the receiver/manager appointed by AMCOM, but also unacceptable.
"We want to say that SEWUN and ISSSAN were not carried along in this decision. We have made several entreaties through correspondences to the concerned authorities to rescind this dehumanizing decision and honour every agreements both parties reached for the interest of peace and harmony. Up till now, our efforts have fallen on deaf ears thereby creating tension and restiveness by workers. We can no longer fold our hands and allow this evil and dehumanization to continue.
"We are therefore using this medium to alert the public and others that any moment from now, workers will occupy DSC and AMCON, etc. through demonstrations and picketing if the remaining 75 per cent is not paid to the workers. The  ultimatum we issued over this matter has since expired. We will not be wrong to conclude that the delay in payment of the full benefits is aimed at suppressing and incapacitating the already deflated workers so that they could die gradually."
The two unions added, "We are insisting that this evil machination shall not go without being subjected to the right scrutiny so that both the legal and public opinions will adjudicate. We insist on 100 per cent settlement of the N3.2 billion since they have demonstrated cash availability. We use this medium to call on all well-meaning Nigerians to prevail on AMCON, and the management of Premium Steel and Mines Ltd to pay in full the workers entitlement. Failure to do this would amount to injustice and any action embarked upon by the workers thereafter, should be blamed on the door step of  AMCON's decision not to pay the workers their full terminal benefits."
The post Labour rejects 25 % terminal benefits to defunct DSC staff appeared first on Vanguard News.