…As Senate begins screening of 27 RECs
By Henry Umoru
ABUJA— One of the 27 nominees appointed by President Muhammadu Buhari as Resident Electoral Commissioners, REC, for Indepedent National Electoral Commission, INEC, Ibrahim Abdullahi, shocked senators, yesterday, with a declaration that many lawmakers do not visit their constituencies.
The Adamawa State nominee, who spoke as he was being screened by the Senate, advised lawmakers to be in touch with their constituents and be transparent in their acitivies to redeem their image in the eye of the public.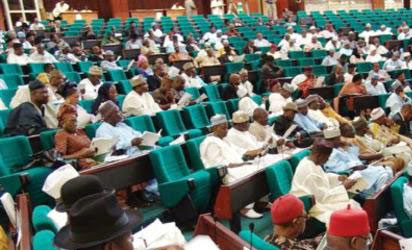 Abdullahi, who was responding to a question by Senator Ali Wakili (Bauchi South) on how the National Assembly could improve its image, said:  "Some National Assembly members are not really visiting their constituencies the way it should be. The activities of the members should be more opened."
Senator Abdullahi Gumel (Jigawa North West), however, disagreed with the Adamawa State nominee, saying:  "80 to 85 percent of the lawmakers go to their constituencies but unfortunately the demands of people are too much because of the inactivity of local governments.
At the commencement of the assignment, yesterday, by the Committee on INEC, led by Senator Suleiman Nazif (APC, Bauchi North), six of the nominees were screened as the exercise continues today.
Of the six, some were asked questions, while some were not as they were asked to take a bow and go.
Those who appeared were Professor Godswill Obioma, Abia State; Ibrahim Abdullahi, Adamawa State; Professor James Apam, Benue State; Dr. Nwachukwu Orji, Ebonyi State; Dr. Illo Chuks, Enugu State and Dr. Asmau Maikudi, Katsina State.
In his remarks yesterday, Special Adviser to the President on National Assembly (Senate), Senator Ita Enang, who presented the nominees to the Senator and appealed for a fast track of the process.
" The states have been vacant for a long time, if this is not addressed urgently, we may have a constitutional crises on our hands."
Enang assured the committee that President Buhari ensured due diligence before nominating the candidates.
In his remarks, Chairman of the committee, Senator Suleiman Nazif, called for collaboration with the nominees, if they were confirmed, to ensure the desired change in INEC, adding that the Senate was committed to contributing to free, fair and credible polls that would "reflect the will of the people, and not the will of a few big men."
The nominee from Abia State, Prof. Godswill Obioma, fielding questions from the committee members, expressed commitment to adhere to the code of conduct and ethics required of a REC.
Speaking on the introduction of the card reader in the 2015 general elections, Obioma said the technology could be improved upon to ensure it remained credible.
On his part, Apam from Benue State called on the executive and the lawmakers to ensure good governance, if election violence must be reduced or eliminated.
In the list list sent by president Buhari to the Senate, eight present Resident Electoral Commissioners were reappointed and they are Hussaini Haliru Pai from the Federal Capital Territory, FCT; Alhaji Ahmad Makama, Bauchi; Barrister Mike Igini, Delta; Sadiq Abubakar Musa, Kaduna; Jibrin Ibrahim Zarewa, Kano; Ambassador Rufus Akeju, Lagos; Sam Olugbadebo Olumekun, Ondo; and Barrister Kasim Gana Geidam, Yobe.
In the list, nineteen were newly appointed and they Professor Godswill Obioma, Abia; Ibrahim Abdullahi, Adamawa; James Iorliam Apam, Benue; Dr. Nkwachukwu Orji, Ebonyi; Dr. Ilona Joseph Valentine Chuks, Enugu; Dr. Asmau Sani Maikudi, Katsina; Dr. Mahmuda Isah, Kebbi; Professor Samuel G. Egwu, Kogi; Professor Mustapha Zubairu, Niger; Agboke Mutiu Olaleke, Ogun; AbdulGaniyu Olayinka Raji, Oyo; Professor Riskuwa A. Shehu, Sokoto; Ahmad Bello Mahmud, Zamfara; Dr. Nentawe Goshwe Yilwatda, Plateau; Umar    Ibrahim, Taraba; Emeka Ononamadu Joseph, Imo; Obo O. Effanga, Cross River; Professor Francis Chukwuemeka Ezeonu, Anambra and Dr. Briyai O. Frankland, Bayelsa.
The post Many lawmakers don't visit their constituencies, REC nominee tells senators appeared first on Vanguard News.