By Simon Ebegbulem & Gabriel Enogholase
BENIN—OBA of Benin, Ewuare II, has felicitated with Nigerian workers on the occasion of the 2017 Workers Day celebration.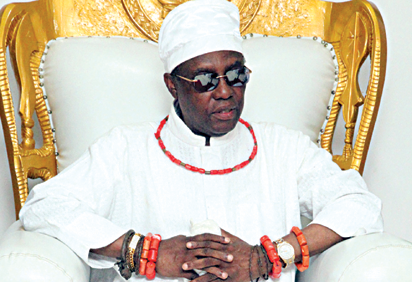 The Benin monarch, who made the commendation, yesterday in his good will message, according to his Chief Press Secretary,  Mr Desmond Agbama, praised the workers for their steadfastness, resilience and commitment to the Nigerian project, even in the face of current economic recession in the country.
The Oba of Benin expressed confidence that the condition of service of Nigerian workers will improve and prayed God and the ancestors to grant the country quick economic recovery and also give the leaders the political will to enhance the welfare of Nigerian workers.
He called on workers to be dedicated to their duties at all times in order to be productive, so that they can be counted and rated high in the committee of workers internationally.
The Oba also stressed the need for both the employer and the employee to use the occasion of Workers Day to reflect on how to get Nigeria out of economic recession as quickly as possible.
The post May Day: Oba of Benin felicitates with workers appeared first on Vanguard News.