By Dennis Agbo
ENUGU—SECOND republic Vice President, Dr. Alex Ekwueme has noted that the activities of the Indigenous People of Biafra, IPOB, and its leader, Mazi Nnamdi Kanu were aimed at enthroning justice in Nigeria.
Ekwueme also said that IPOB's agitation is pursuant to equity among all peoples of Nigeria, particularly the Igbo.
The former Vice President made the remarks, yesterday, when the IPOB leader visited him in his Enugu residence.
He said he was happy to receive Kanu in his house and promised to privately offer his advice to him on how to carry on with his agitation for restoration of a Biafra republic.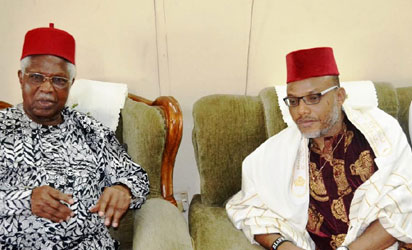 Ekwueme said: "For me, it is a pleasure receiving Nnamdi Kanu in my humble abode here today after all his travails in the last few months. I thank God that he is free and able to move around and for me to be able to see him here in this house.
"It is a pleasure for me to receive him. I will make my best counsel available in his  task of leading an agitation that is committed to maintenance of justice and equity among all peoples, especially our people."
The IPOB leader, Kanu, told Ekwueme that he was in his house to seek his wise counsel, noting, he had learnt one or two things from the former Vice President that he never read in history text books in his life.
Kanu said he found Ekwueme invaluable in the advancement of Igbo people, particularly as his (Kanu's) activities were strived to make life better for the masses.
"I am humbled and delighted to be here before you and also to bring you up-to-date  on what we have been doing; what motivates me to do what I  do and what motivates IPOB today to do what we have been doing.
"It's to give an expression to the yearnings and aspirations for a better society. That's what we are trying to do, because the sum total of  all the activities of IPOB is to ensure that there is dignity of life  and for us to fulfill that simple mission, we must be very diligent, we must be focused, sincere and we must also be very honest.
"So, I've come here today to meet my father and to explain  why we do what we do and also to get his blessings on going forward. Anything you tell me to do is what we are going to do as far as it advances our collective cause as a people and pushes us to the pinnacle of success on what we want to do."
Ekwueme met Kanu behind closed doors.
The post Nnamdi Kanu, IPOB seek justice, says Ekwueme appeared first on Vanguard News.