DELTA State governor, Dr Ifeanyi Arthur Okowa, has again assured the people of Delta State and Isoko nation of his commitment towards infrastructure, socioeconomic and human capital development in the state.
Responding to questions during a town hall meeting at the Civic Centre in Oleh, Isoko South, the governor said his administration would have achieved more in two years but for a huge monthy wage bill of over N7 billion.
Executive Assistant on Communication to the Governor, Fred Oghenesivbe, quoted the governor as saying: "I am deeply worried over the huge monthly salaries and wage bills which have greatly slowed down our service delivery to the people. It is not funny at all. We are taking the issue of staff audit very seriously so that we are able to know the exact number of people working and where they are.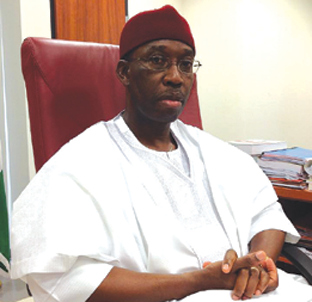 'We cannot continue to pay huge wage bills without conducting a verification exercise. It is a task that must be done and the LGAs must also do likewise so that they too can save some money for infrastructure and socioeconomic development of the communities within their constitutional responsibilities.
"You are aware that some states already discovered serious frauds through staff audit, and the rescued funds are now being deployed into productive ventures, particularly infrastructure and human capital development. Delta State will not be left out.
"Another area of huge financial leakage is pensions funds payment and I am told that monumental fraud is ongoing. We shall deploy strategies to unearth the fraud so that whatever is saved can be applied towards the overall development of our state."
"We have set up a committee to look into the pensions fraud issue and I recently directed that representatives from the Nigerian Labour Congress (NLC) and Trade Union Congress (TUC) should be included for the sake of transparency and to avoid unnecessary insinuations and protests."
On the issue of LGAs staff salaries arears, Gov Okowa regretted the development and heaped the blame on the poor national economy and recession, adding that his administration is currently working out strategies to clear the backlogs as soon as possible subject to availability of funds accruing to the Joint Account between the state and LGAs.
"I am pained by the lingering crisis occassioned by delay in the payment of arears of LGAs staff salaries. It is regrettable and we are on top of it, going forward.
"My administration is committed to the prosperity for all Deltans mantra and I shall do the needful at all times to put smiles on the faces of all Deltans."
The governor assured the people of Isoko Nation that the state government will continue to engage them and other citizens in the three Senatorial districts in line with democratic principles infused into the SMART AGENDA, one of which is the town hall meetings.
The governor and some of his cabinet members, party chieftains and aides were hosted by Isoko Nation political strategist and Minority Leader of the House of Representatives, Hon Leo Ogor at his country home in Oleh.
The post Okowa bemoans N7bn monthly wage bill appeared first on Vanguard News.