The Christian Association of Nigeria (CAN), Niger chapter, has described the release of the 82 girls abducted from Government Girls Secondary School (GGSS) Chibok, Borno in 2014 by Boko Haram insurgents as fulfilled campaign promise by President Muhammadu Buhari.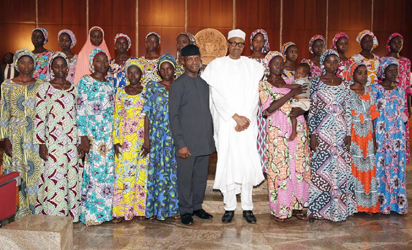 The CAN Chairman in the state, Rev. Mattew Echioda, said this in an interview with newsmen in Minna on Tuesday.
Echioda said the release of the girls would give hope to parents of the remaining girls who were still in captivity that their daughters would also be freed soon.
He also described the release of the girls as "gallant and outstanding achievement by the Federal Government that should be commended by Nigerians.
"The release of the girls has given further hope to Nigerians that other promises made by the President will be actulalised.
"As we look forward to receiving the remaining girls, I advise Nigerians to continue to be patient with the present administration because it is clear that it is working to improve the living standard of the people.''
He commended the efforts of security agencies and the international communities involved in negotiations toward the release of the girls.
The chairman urged the Federal Government to ensure that the girls were re-united with their families immediately.
He appealed to Nigerians to continue to be patient with government policies and programmes and keep reminding their leaders to fulfill their campaign promises.
He noted that "rather than complaining, Nigerians should keep reminding their leaders of the promises they made.''
The 82 Chibok schoolgirls were released on May 5, 2017 by Boko Haram insurgents.
They are among the more than 200 girls abducted by the insurgents on April 14, 2014
The post Released Chibok girls, a promise fulfilled by President Buhari: Niger CAN appeared first on Vanguard News.