By Davies Iheamnachor
ODIEREKE UBIE—A female ruler of Ekpeye Kingdom, straddling Ahoada West and Ahoada East Local Government Areas of Rivers State, Dr. Patricia Ogbonnaya, has advocated the abrogation of all traditional norms and beliefs disfavouring women to enhance their contributions to the development of the monarchy and state.
Ogbonnaya made the call soon after she was coronated Ada-Ekpeye II of Ekpeye-Logbo by His Royal Majesty, Eze Robinson O Robinson, Eze Ekpeye-Logbo II and the entire Council of Chiefs of Ekpeye land at Odiereke Ubie community in Ahoada West Local Government Area, AWELGA.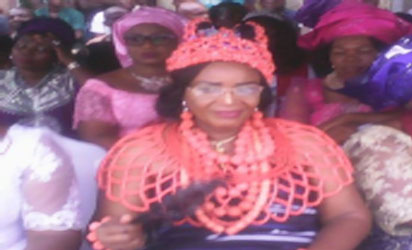 Her words: "I call on our men in Ekpeye-land to please put away the traditional beliefs that the place of a woman is always in the kitchen and give our girl child quality education. No one in this present day will train a child only to limit her potentials to the kitchen or to the farm or carrying our traditional 'Ogbani and Ogwu'. Our educated women and professionals in various fields of endeavour should be projected to occupy positions of trust like their counterparts elsewhere."
Monarch drums support for women: Speaking earlier, the King of Ekpeye Kingdom, Eze Robinson, stated that the creation of the Ada-Ekpeye stool in the kingdom, some years back, was to give women the needed voice in the affairs of the land.
King Robinson said: "Ekpeye Kingdom has 99 towns and communities, the women folk comprises young girls and ladies, who obey and respect the stool of Ada-Ekpeye, as the sole galvanizer, controller and advocate of women or female gender in Ekpeye land.
"The role of Ada-Ekpeye includes mobilizing women to join any political party of their interest, representing women in any social gathering identifying with government to integrate women in government programmes and forming social organizations and educating women to embrace government policies among others."
Noting that Ada-Ekpeye stands as the rallying point and focus for women in Ekpeye-land, the monarch called on the state government, local government chairmen in kingdom, companies, security agencies and traditional rulers in the area to partner her to bring women development in the area.
The post Remove traditional obstacles against women — Rivers queen appeared first on Vanguard News.