By Evelyn Usman
A 47-year-old father of six, who has been parading himself as a Police Inspector to harass and extort unsuspecting Nigerians, especially traders at Oshodi Market in Lagos, has been arrested by operatives of the Rapid Response Squad, RRS, of the Lagos State Police Command.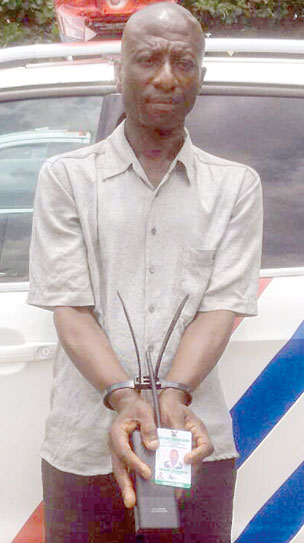 The suspect, Gregory Anyasodo, was allegedly in possession of a bag containing N125,000, which he seized from a trader at Oshodi Market, after threatening to arrest her.
Preliminary investigation revealed that the suspect, who hails from Owerri North, Imo State, had been arrested six times for impersonating officials of the West African Examination Council, WAEC, and the Joint Admission and Matriculation Board, JAMB, in Imo State.
He had also been arrested thrice by policemen attached to Shell Camp, Owerri, over a similar offence.
He was said to have relocated to Lagos last year, where he got himself a police identity card with service number 14873, with the rank of an Inspector, attached to the Lagos State Task Force and Special Anti-Robbery Squad, SARS.
He met his waterloo last Thursday after a trader, Mrs Emmanuela Joseph, who he allegedly collected her handbag, after threatening to arrest her, lodged a complaint with RRS operatives at Oshodi, that she had N125,000 in the bag.
Confession
When accosted, the suspect, as gathered, acknowledged seizing the trader's bag, but denied collecting the money. His response to questions posed at him by the RRS operatives aroused their suspicion, consequent upon which he was whisked away.
During interrogation, Anyasodo said: "I have been into this business since December 2016. I left my wife with six children for Lagos, in preparation for a church's convention in Lagos, which was held in February at Ijesha.
"I came early for the programme with the intent to seize the opportunity to look for job in Lagos. Occasionally, people allowed me to sleep at their balconies and corridors after convincing them that I am a stranger.
"Sometimes I slept in hotels. When I couldn't get a job, I ventured into impersonation. I have been arrested six times in Owerri for impersonation.
"I have impersonated WAEC and JAMB officials. I have also been arrested thrice by Shell Camp police, Owerri for impersonation.
"What I do is move close to my victims, who are mostly traders without shops. I would show them my identity card and threaten to invite my colleagues if they fail to settle me.
"I collect whatever they gave me and walk away. I make between N10,000 to N15,000 daily."
Nothing for family in Owerri
Continuing, Anyasodo said that he had never sent money to his family since he ventured into the illicit act.
He said: "I regret my action, most especially because I never sent a dime to my wife in Owerri to take care of the children I left in her care. I only call her occasionally. I thought I would make more money from impersonating the police."
Police sources stated that the graphic artist, who designed the police identity card for the suspect and the printer had also been arrested.
The suspects, as gathered, had been transferred to the State Criminal Investigation and Intelligence Department, SCIID, Yaba.
The post Serial Impersonator: I make N15,000 daily, says fake Police Inspector appeared first on Vanguard News.