By: Kingsley Omonobi
Abuja – The Nigerian Customs Service has announced the appointment of four new Deputy Comptroller Generals and eight new Assistant Comptroller Generals.
A statement from the service said, "Following the statutory retirement of some members of Management, within the last three months, the Management of the Nigeria Customs Service has been reconstituted with appointments of four (4) Ag. Deputy Comptroller-Generals and seven (7) Ag. Assistant Comptroller-Generals.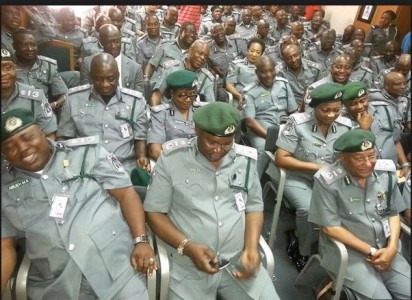 "While re-constituting the new team, the Comptroller-General of Customs Col. Hameed Ibrahim Ali (Rtd) also approved slight redeployment of 8 Comptrollers to re-engineer the management of the Service for efficient service delivery.
A statement by Joseph Attah, spokesman of Customs said, "The new NCS Management members include: Alu Sule Robert, DCG T & T, Ag. DCG Oubiyi Ronke (Mrs.), Ag. DCG HRD, Dangaladima Aminu, Ag. DCG E, I & I; Iferi Patience (Mrs.), A. DCG SR & P.
Others are Chidi Augustine, Ag. DCG EX. FTZ & I.I; Hamza Ladan, COMPT INV. – Ag. ACG FATS; Ekekezie Kaycee (Mrs.), COMPT. VAL. – Ag. ACG T & T; Haruna Mamud; COMPT. FOU 'A' – Ag. ACG E,I & I; Sarki-mar F. M (Mrs.), CAC ED/DT – Ag. ACG EX. FTZ & I.I; Fatade, A. O.B, CAC PTML – Ag. ACG (ZONAL COOR) ZONE 'D'.
Also included are Enwereuzor Francis (Mrs.) CAC EN/AN/EB – Ag. ACG SR & P; Dahiru Aminu, CAC FCT – Ag. ACG (ZONAL COOR) ZONE 'B'; and DCG Umar Iya Abubakar who was formally in charge of Tariff and Trade now move to Finance Administration and Technical Services.
In the same vein, eight (8) Comptrollers of Customs were redeployed as follows:- Mohammed, U.G COMPT FOU C- COMT FOU A; Amajam, B. A COMPT. TECH. SERV- COMPT FOU C; Umar; D (Mrs.) COMPT. Welfare- CAC FCT; Dixon, F.O (Mrs.), COMPT. Posting- CAC Edo/Delta.
The post Shake-up in Customs as 4 Ag Deputy Comptroller Generals, 7 Assistant CG appointed appeared first on Vanguard News.