Atletico Madrid visit the Estadio Santiago Bernabeu tonight for the first leg of the Champions League semi-final against Real Madrid, but Zinedine Zidane is urging his players to approach this week's match as if there's no second chance Los  Blancos are famous for European comebacks, but the Frenchman doesn't want to travel to the Estadio Vicente Calderon next week needing a win.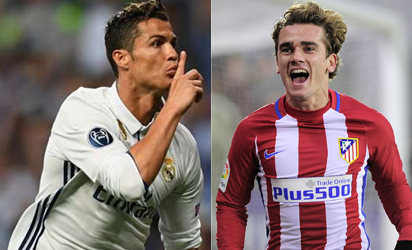 "We know how important this match is," the coach said in his pre-match press conference on Monday. "We must assume there's no second leg and play well from the first to the last minute of this match.
"We must only think about [Tuesday's] match and not about the return leg
"Our fans will be with us, just like they were last weekend.
"They have helped the team a lot, they are an advantage and we need them."
He also dismissed the notion that Real Madrid are the favourites and that their past victories over Los Colchoneros in this competition would have an influence.
"We aren't the favourites as this is a semi-final and it's 50-50," he said. "You can't dwell on what's gone before as what has happened, has happened.
"They have caused us difficulties, but so have many teams. Their strength is that they never give up, no matter what happens.
"[Diego Simeone and Mono Burgos] are doing a phenomenal job.
"They always fight and use their weapons the best way possible, but we also have our own weapons and will focus on our game.".
The post Zidane: Madrid must play Atletico as if there's no second leg appeared first on Vanguard News.