THE way forward for the country is not bombs, oil or stolen money, but the education we are able to give. If we have a country whose people are well educated, everybody will know his right and there will be rapid development. So education and health must take the highest budget." This was the submission of Barr. Kenneth Imansuangbon, the founder/chairman of Abuja-based Pacesetters' Academy as he led his wife, Kate, students, members of staff and representatives of seven embassies to celebrate its 2017 International Cultural Day on Wednesday, July 5.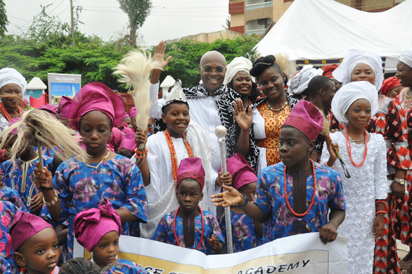 The event which took place at one of the primary arms of the Academy in Wuse, drew students from different ethnic backgrounds – Hausa, Igbo, Ijaw, Yoruba, Edo etc., surrounded by their parents. The students were dressed in different native attires depicting their various cultures.
It is a yearly event that parades not only the students but also identifies with seven embassies viz: South Korea, China, Japan, Liberia, Ethiopia and Nigeria.
 Top priority: Lamenting the state of Nigeria's education sector, Imansuangbon noted that education standard is indeed falling. "I would say that products of Nigerian universities these days are half-baked; you can't give what you don't have. Why are they half-baked? We need to go back to the roots and take care of our university system. First, teachers should be well remunerated, laboratories well equipped and emphasise on merit rather than on who you know. This will make students study hard so that when they find themselves outside, they will be able to perform well because they have been equipped by the system.
"Education must be a priority. I don't believe that the military should have the highest budget; education and health should get the highest. We should educate our children rather than using the money to buy bombs," he said.
He noted that if Nigeria must grow, then there is need to make education the foundation/pillar, adding that developed nations like USA,  Russia, China and Japan, still lay emphasis on education.
Theory vs practical: Imansuangbon regretted the emphasis on certification rather than entrepreneurial skills. "The two are needed; you can't suppress one for the other. The academic ability should be able to inspire and spread the creative ability. The creative ability is what people need to be able to put food on the table. For instance, if you are a doctor, you must know math, algebra, calculus etc but knowing them is not enough.
The real creativity is in dissecting what the issues are medically. The two must go pari passu," he said.
Rich/poor gap: On the seeming disparity between the education of the rich and  poor, Imansuangbon said he is bridging the gap via scholarships. "The gap… is like the one between Pacific and Atlantic oceans but even then, there is a meeting point and that is what we are doing. In  Pacesetters, we charge fees but 45 to 50 per cent of the children are on scholarship.
If you are in the military or even police force, you are entitled to 20 to 50 per cent discount to encourage them for their selfless service to the nation. If you lose a father or mother when you are in Pacesetters, you are entitled to scholarship. If you are coming in to the school and you are exceptionally good, you will be admitted and offered scholarship and tuition is free. At Pacesetters, money is not our primary motive; most times we make losses rather than profit but at the end of the day, both the poor and the rich find succor. If you are an indigent but brilliant student, we believe you have a role to play not only in the school but the society at large. If you look at developed countries, they pick the best to head their public service.
So I am committed to doing this and by the grace of God, I will never stop," he stated.
Blazing the trail
Said Imansuagbon: "We have been setting the pace for others to follow. We are guided by our name and our students must show good example. In Pacesetters, you must have good character which counts in academics, social activities, religion, self-esteem, confidence and totality. In terms of standards, Pacesetters is second to none. We have our laboratories, children have access to facilities, computers and internet. We have six schools in four major locations in Abuja – Gwarimpa, Wuse, Wuye and Gusape extension."
The post Education, way forward for Nigeria — Imansuangbon appeared first on Vanguard News.