…ill health may persist for years — WHO
By Chioma Obinna
And the sky opened! It rained non-stop for days. The downpour sent many packing.  Some were in a dilemma, while others were baffled at the rain apparently wondering if the situation had become a daily affair. Some thought the world was going back to the days of Noah in the Holy Bible, when it rained 40 days and 40 nights.  People began to panic. Just like the kindergarten poem, "Rain! Rain! Go way, come again another day."  People were praying that the rain should cease. But all to no avail.  The rain continued unabated. Some were reminding their God about His covenant with Noah, not to destroy the world with water again. They looked out for the rainbow sign, but there was none.  By the time the rain stopped, it had already wreaked havoc, taking many lives.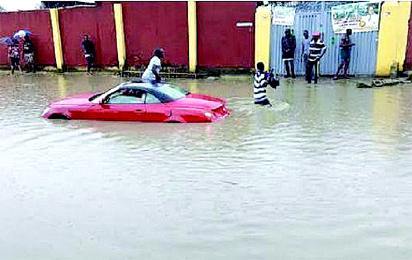 However, Nigerians are not strangers to flood.  The rain which continued for  over a week caused massive flooding. Many communities had their fair share of the  consequences of the rain.  While the media space was awash with arguments behind the accompanying flood, experts  blamed impact of the rain on alterations around the lagoon and waterfronts. But one striking thing was that the rain affected both those living in highbrow areas where people thought it couldn't following developmental activities in those areas.  In some areas, residents were forcefully imprisoned by the flood.  Just in one fell sweep, 12 people  reportedly died as a result of flooding in Suleja and Tafa Local government areas of Niger State, as a result of the   rain that lasted five hours.
The flood has come and gone but it left hollowness in the lives of many families.   Today, survivors are still recounting their experiences.  Some families are thankful to God that it did not leave deaths on its trail.
For those families where it left casualties, survivors are undecided whether to be   joyful for staying alive.
Sadly, aside victims being  homeless, their future is uncertain as public health physicians predict an imminent outbreak of infectious diseases, increase in high blood pressure, cardiac arrests, vector born diseases, among others.   According to them, these health issues are likely to continue long after the flood waters recede and these could potentially worsen mental health conditions.
According to a World Health Organisation, WHO, report, the damaging effects of floods are complex and the economic effects are often much greater than indicated by the physical effects of floodwater coming into contact with buildings and their contents. WHO says indirect economic losses spread well beyond the flooded area and may last much longer than the flood itself.
The report notes that the number of deaths associated with flooding is closely related to the life-threatening characteristics of floods and to the behaviour of victims. Ill health, particularly in the form of psychological effects, may persist for months, or even years following a flood.
According to WHO, most heats and feverish conditions usually effect children and the elderly. There are fears that these communities may face a range of physical and psychological health problems over the next few months.   Also, studies on effects of flood have revealed that even those living in areas that haven't been directly affected could experience an increase in the incidence of mosquito-borne viruses, which can lead to serious ailments such as respiratory diseases; shock; hypothermia; cardiac arrest and other water-borne diseases.
Findings by Sunday Vanguard indicate that most Nigerians are now living in fear aside physical injuries as they clean-up after floods.
Evidence show that floods can affect people's health in the longer term in a number of ways, including stress, anxiety with depression being the most common complaints.  Some  people, according to WHO report, can come down with physical ailments including dermatitis, worsening asthma, arthritis and chest infections.
According to experts, the stagnant water left behind by the downpour also provides  an excellent breeding ground for mosquitoes, increasing the risk of  mosquito-borne diseases such as Ross River virus and Barmah Forest virus.    Common symptoms of both diseases include joint pain and inflammation, as well as tiredness and muscle aches.
Another negative effect of rain comes indirectly from acidic rain. Studies have shown that all rainwater has a slightly acidic pH due to ambient levels of carbon dioxide in the air.  But while acid rain does not have direct effects on human health, studies have linked acidic rain to several indirect health conditions.   While acid rain cannot harm humans directly, the sulfur dioxide that creates it can cause health problems. Specifically, sulfur dioxide particles in the air can encourage chronic lung problems, like asthma and bronchitis. Additionally, the nitrogen oxides that create acid rain promotes the formation of ground-level ozone. While ozone, high above the earth, helps block ultraviolet radiation, ground-level ozone promotes severe lung problems like chronic pneumonia and emphysema.
In the views of a Consultant Physician and Genetic Epidemiology, Lagos University Teaching Hospital, LUTH, Prof. Olufemi Fasanmade, floods are associated with water borne diseases because many wells and boreholes become contaminated by overflowing sewage and even the government public water often is disrupted by floods which destroy electricity supply and breach water pipes.
Fasanmade who is LUTH's Chairman, Medical Advisory Committee, CMAC, regretted that the stress associated with flood could also potentially worsen blood pressure, blood sugars and mental health of residents in flood ravaged areas.
The dirty water that floods bring into homes can cause conditions such as diarrhoea, skin and soft-tissue infections.
According to him, there will be increase in skin infections especially athletes foot, due to wading through streams and dampness of feet and footwear. "The changes in weather are also associated with common cold and rhinitis.
An infectious disease physician at Sydney's Royal North Shore Hospital, Dr. Bernie Hudson, said any cuts and scratches acquired in a flood-affected area should be cleaned immediately and covered to avoid infection, adding that such a person required urgent medical attention if any such cut becomes painful and if the individual develops fever.
Hudson also explained that floodwater and contaminated soil can also be a source of leptospirosis, caused by a pathogen found in rat urine.
"These bacteria usually enter the body through small breaks in the skin, causing a flu-like illness that should be treated with antibiotics as early as possible."
However, health watchers are of the view that as the rain persists, providing accurate information on safe management of flood water during evacuation and clean-up and on the actual situation is essential.
They also stressed the need to shift emphasis from disaster response to risk management; improve flood forecasting; establish early warning systems, and include health actors in the communication flow.
For them, harmful effects of flooding can be reduced by building codes, legislation to relocate structures away from flood-prone areas, planning appropriate land use and migration measures.
Prevention tips:  
A Public health physician, Dr Robert Hall, a senior research fellow at Melbourne's Monash University, advised that people should wear appropriate clothing when cleaning up areas affected by floods.
Remember to wash your hands thoroughly after each clean-up session and always before eating or preparing food.
Do not use petrol or diesel-powered equipment, such as generators or pumps, in enclosed spaces.
Wear a mask when working with heavy mould.
Be alert to snakes, spiders and rats that may have taken refuge in your home.
For mosquito-borne viruses, the best way to stop the spread of mosquito-borne viruses is to stop mosquitoes breeding. Around your home you should empty or discard any container that can hold water.
Protect yourself from mosquito bites by wearing loose, light-coloured clothing, use insect repellent and stay indoors behind screens when mosquitoes are around.
You should also consider repairing defective insect screens around the house and using insect spray to kill mosquitoes in the home.
Mould will also be an issue for many people after the recent rains, even those who have not been affected by floodwaters.   Mould in damp buildings can trigger nasal congestion, sneezing, and coughing, wheezing and respiratory infections. It can also worsen asthma and allergic conditions.
People most at risk include those with weakened immune systems, allergies, severe asthma and chronic, obstructive or allergic lung diseases.
It is also important to remove sources of moisture that are allowing mould to grow. After flooding, clean and disinfect all affected surfaces inside the house, including floors, walls, the kitchen, bathroom and laundry, the department advises.
The post Flood: Infectious diseases, hypertension loom appeared first on Vanguard News.