By Emma Amaize
ASABA—DELTANS in the United Kingdom, yesterday, raised alarm that locals in Abraka, Ossissa, Amatebe communities in Ethiope East, Ndokwa East and Patani Local Government Areas, Delta State, are now afraid of going to their farms for fear of being raped or killed by the new breed of murderers known as herdsmen.
Chairman and Secretary of Delta State Forum, DSF in the UK, Olorogun Charles Okobia and Olorgun Sylvester Efole, respectively, in a statement, said that reports indicated that prices of foodstuff had escalated as farmers could not farm anymore in their own lands because of the Fulani herdsmen that had replaced the traditional sticks and daggers used for herding cattle with rifles.
They said:  "The locals living around most of these communities listed above can no longer farm safely in their communities for fear of being murdered or raped by the suspected herdsmen. Prices of foodstuffs have escalated because of the impact on farming."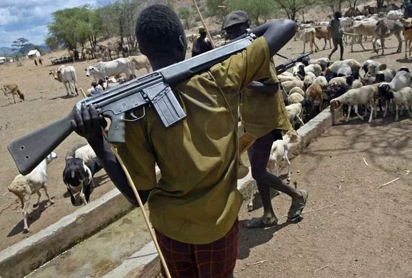 They expressed shock that despite the killings and attacks on residents and farmers in several parts of the country by herdsmen, both the federal and state governments were still undecided in addressing the menace, wondering, "Who is covering up for who and for what reasons? Is there something beyond mere criminality that we do not know?
"Is there a tacit support for these murderous acts by people in high places, how do these criminals afford their sophisticated weapons, why is it taking our state government so long to respond to these killings, as if pretending that all was well?
"Herdsmen by nature move with their animals, so they should be relatively easy to identify. Why is there no conscious attempt to disarm them, given all these atrocities that are well documented and why are Fulani herdsmen allowed to carry military-grade weapons with impunity?
"There is right to property acquisition as guaranteed in sections 43 and 44 of our constitution and the willful destruction of other people's farms and crops is a criminal offence in our nation."
The menace of the so-called Fulani herdsmen nationwide has grown to alarming proportions. No one should pretend to be unaware of this greatest threat to our lives soon after the successful and commendable containment of the Boko Haram insurgency by the Buhari administration in Nigeria.
"We are deeply concerned about the level of seriousness with which the Federal Government and most especially our Delta State Government under the watch of Governor Ifeanyi Okowa, who is clearly displaying very weak leadership as far as handling of these well-documented killings by suspected  herdsmen is concerned," the forum said.
It will be recalled that Deltans, have always lived peacefully with northerners, the Hausas and nomadic Fulanis for ages, but the group wondered why the herdsmen that were once peacefully herding their cattle with sticks and daggers to turn to murderers of their host villagers.
The post Herdsmen scare Delta farmers from farms —Deltans in UK appeared first on Vanguard News.