President of the Nigeria Labour Congress, NLC, Ayuba Wabba, who is now a member of the Governing Board of the International Labour Organisation, ILO, after his election, at the recently concluded 106th Session of the International Labour Conference, ILC, in Geneva, Switzerland, speaks on issues ranges from the gains of the conference, green jobs, minimum wage, child labour among others. Excerpts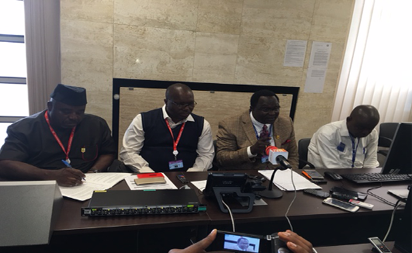 By Victor Ahiuma-Young
THERE are fears that the issue of new minimum wage may drag on till 2018?
It is good for people to express their fears, but it is also good for leaders to be up and doing. For us in Organised Labour, certainly, it is an issue that we think that is long overdue and we have gotten commitment from all levels, including from the National Assembly that they are ready to make sure that this issue is addressed once and for all. You can even see that in the last one month, an action that has been taken, the leader of the House of Representatives, Femi Gbajabiamila, proposed a bill to the effect that the issue of the review of minimum wage should even be a provision of the law.
Because you are aware that in 2011, what we had was a tripartite agreement that after five years, the minimum wage will be reviewed. But they have even gone one step further by saying that it should not only end up in the tripartite agreement, it should be a product of law. I think that all of them in the National Assembly, which we have interfaced with, are ready to do the needful, including if there is supplementary budget  today, that they are ready to give it accelerated hearing. Therefore, those fears are real, but we are working assiduously from our perspective to ensure that those issues are addressed. It is an issue that you need to bring the governors, employers, government and Organised Labour. You know businesses are for profits and anything that will take a dime out of their profits, they are ready to do everything possible to delay it. We are mindful of that. It is not the first time we are treading this path, you remember in 2010, it was also the same process.
 Review of minimum wage
There was also this insinuations. But I think when the die is cast, all of us will then know that certainly the workers are pushed to the wall, there is a limit to patient and understanding. Certainly, a hungry person, however you explain to him, there is no basis how he will understand. So we Are looking at reality. Because it is very clear that N18,000 in the context of the current economic reality cannot take you for a week.
I assure you that we on this side (Labour) will play our role very importantly so that we take into consideration some of the issues that our members have brought to our attention. But I think the important thing is that the process must start and we must see it to the fact that this process must have a timeline where we can end it. We should not allow those workers to die first before the fruit of their Labour will manifest.
The issue of Child Labour is a major deliberation at this conference, what measure(s) has organised labour put in place to end child labour in the country?
Last year, this issue was featured, and Nigeria appeared at the committee on application of standard on this particular convention. On reaching home what we tried to do is to work on the tripod.
As I speak to you now there is a tripartite committee working to review our law, particularly the one that bothers on child labour. Because you find out that our law back at home was not consistent with the ILO convention on child labour. Therefore there is the need to get that law reviewed because you cannot work outside the law, especially when it is a convention. Again, especially the age that is being referred to as child labour. Our law back at home is actually inconsistent with the ILO convention.
We are working assiduously with the National Assembly because I think they are supposed to have had a public hearing on that law. But because of the fact that at the last ILC meeting, we agreed that the law should be recovered from the National Assembly, the tripod (Government, Employer and Labour) should do a review and then send it back to National Assembly for enactment. So, progress has been made by the tripod and very soon, it will be transmitted to the National Assembly.
To the best of your knowledge, how prepared is the National Assembly willing to see that the    process commenced as soon as possible?
Let me assure you that the chairperson of the Senate Committee and House of Representatives Committee on Labour are aware of this development because it is with their consent that the law was brought back to the Ministry of Labour so that the tripod can to look at it. So, the first step is to address the lacuna or the lack of consistency with our law and the second aspect is the application.
On the issue of application, all of us must be committed because of the fact that in the context of Nigeria, what the law allows is that for those works that child labour is not accepted, there are also lighter works that they can also be able to do and also limiting the number of hours. So, once that law is in place, it is now left for us to work assiduously for its implementation. But we have made progress from last year to where we are today.
Another  issue being deliberated is on Green economy and jobs. What    is your take?
If you have followed the argument on the issue of climate change even back at home, if nothing is done, it is very obviously that the developing countries including us will be at the receiving end.
So, I think  this initiative is quiet good to make sure that even in the context of industrialisation, we must be able to work around issues of greener jobs so that the issue of pollution can be reduced and we can be able to save our climate. Because it is very obvious that it is human activities that are actually affecting the climate.
Policy on climate change
So, it will require another level of conscious human activity to be able to deactivate the damage that is already done to our climate. The Minister of Labour yesterday quoted the issue of cerebra-spinal meningitis which arouse because of the fact that the environment became much warmer.
How does this affect Nigerian worker?
As a country, we have a policy on climate change. As NLC, we have just launched a policy on climate change. This is because of the importance attached to this. In the context of providing greener jobs, we are looking at how our industries can be able to have greener sources of energy.
Everybody has a role in addressing this challenge. But as country, we must have a policy that the employer, the worker and the government must key into it. What we did as NLC is to look at how it affects workers, and we have come up with a policy and by the time we get home, we will be improving on it.    But we must key into the issue of the moment. They are issues of development. You can't talk of issues of development in the current dispensation without talking about climate change. Everybody is affected. If you pollute the environment, certainly you know that workers are affected, either directly or indirectly. This is the perspective we are looking at, and workers have a role to play.
The post Minimum Wage: Our patience running out, declares NLC President appeared first on Vanguard News.