By Gbenga Olarinoye Osogbo
Indigenes of Osogbo, capital of Osun State over the weekend rallied support for the All Progressive Congress APC and Governor Rauf Aregbesola, saying that eligible voters in the city were ready to deliver their votes for the electoral victory of the ruling party in future elections.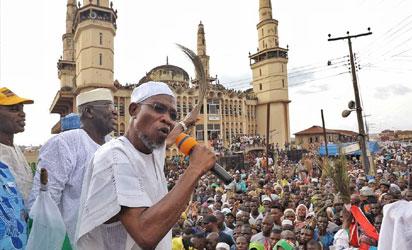 Addressing thousands of people at playing ground of Salvation Army Middle School, Alekuwodo, Osogbo, the coordinator of Osogbo Coalition, Engineer Sola Oladepo said natives and residents of the capital city would reciprocate steady developmental projects and infrastructural facilities located in the ancient town by voting massively for the APC.
He stated that "it is only an ingrate and blindfolded individuals that would argue that Aregbesola has not done anything tangible to change the face of Osogbo and Osun as a state from ramshackle and haphazard position to befitting city and enviable state, now serving as template for other states in the federation"
While describing the antagonistic posture of few Osogbo indigenes, who he claimed were trying to cause retrogression for the state through their selfish and ill-motivated agenda, Oladepo urged members of the APC, natives and residents in Osogbo to "deliver their large chunk of their votes to the party in the forthcoming 2018 governorship poll".
According to him, "we owe it a duty not to allow some disgruntled masquerading as genuine advocates of Osogbo's cause and interest to truncate the wheel of development in this city and the entire state".
Oladepo, who said God Almighty would provide competent and versatile successor that would share Aregbesola 's ideology and vision for Osun in 2018 tasked APC members not to be discouraged by the result of the July 8, Osun West Senatorial election, in which the party lost to the Peoples Democratic Party (PDP) candidate, Senator Ademola Adeleke
Other Party chieftains who took turn to speak declared their support for Aregbesola and APC.they also debunked the insinuation that members of APC were defecting to PDP because of the outcome of the Osun West By-election.
Alhaji Akeem Olaoye, a chieftain of the APC in Osogbo local government said the entire people of Osogbo recognised the impact of Aregbesola's administration and the Osogbo people are solidly behind Aregbesola.
His words, "The administration of Governor Aregbesola changed the face of Osogbo and gave our capital city a befitting look. He has performed excellently and we are solidly behind him.
"People of Osogbo will vote for Aregbesola massively in the forthcoming governorship election. The Osun West Senatorial By-election cannot be used to measure the capacity and popularity of APC and Aregbesola. Our party and our party remain relevant and acceptable to the people of Osun State."
The post Osun 2018: Osogbo rallies support for APC, Aregbesola appeared first on Vanguard News.