GIVING back to society through laudable intervention such as crime fighting is one passion held high by a beauty queen, Yetunde Savage, who received an award from the wife of Lagos State Governor, Mrs. Bolanle Ambode, during the Lagos State APC Women Week in Lagos.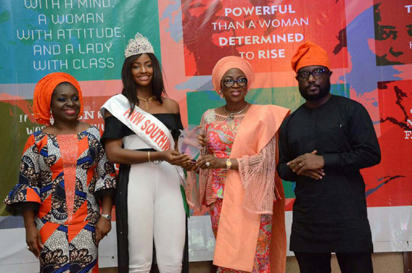 The event put together by Hon. Jimmy Benson from Ikorodu Constituency in the Lagos State House of Assembly through his ICARE Foundation was in recognition of women in Lagos State that are touching lives through humanitarian efforts.
Yetunde who has been involved in some community projects in Ikorodu Town was recognized among other things, for putting effort to reduce crime rate in the community through an annual Football competition tagged, 'Ikorodu Peace Cup Tournament' held among youths within Ikorodu community to arrest youth restiveness, cultism, kidnapping and other anti-social vices rocking Ikorodu Town of late. Besides, she is involved in other interventions like donation of books and learning materials to some public schools in the community called 'QUEEN YETUNDE INTIATIVE CAMPAIGN'.
Her Excellency, Bolanle Ambode who was pleased with the effort of women in Lagos State, expressed her profound gratitude to the award recipients. She then charged women in the society to always do something that will benefit the people and at the same time urges them not to relent even in the face of gender marginalization, but to braze up and make an impact worth emulating.
Yetunde who is the reigning 2017 Face of Nigeria Beauty Pageant queen also runs a fashion house called "HOUSE OF KIM EMPIRE", a company which houses HOUSE OF KIM COUTOURE, HOUSE OF KIM ONLINE DIGITIAL CATALOG and FACE OF KIMBER ONLINE BEAUTY CONTEST.
According to her, "It's really a giant leap to coordinates all these. Besides, the most important thing on my mind is how to bring succor to my community, Ikorodu, and perhaps, reduce the crime rate to the barest minimum which I started through the youth football tournament and other things.
The post Queen Yetunde receives award at APC Women's Week appeared first on Vanguard News.