By Chioma Obinna
Maternal mortality! These two words tell the story of the misery of millions of families. The 2006 census estimated that there were about 68 million females out of which 30 million become pregnant each year. Against the backdrop of the census figures, Nigeria has one of the poorest maternal and child mortality indices in the world, ranking second after India.
The Nigerian Demographic and Health Survey, NDHS, 2013, showed that the country's maternal mortality ratio is 576 per 100,000, meaning that out of every 100,000 live births, 576 women are likely to die. This translates to the death of 110 women every day due to pregnancy related issues. The NDHS also revealed that maternal deaths alone account for 32 per cent of all deaths among women in Nigeria. However, medical experts say to stem the tide, there is need to embrace Family Planning, FP. A new study, published by the Guttmacher Institute, estimates that, this year, 308,000 women in developing countries like Nigeria are likely to die from pregnancy-related causes, and 2.7 million babies may also die in the first month of life, saying most of the deaths could be averted with full access to vital services such as contraceptive care to help women avoid unintended pregnancies, as well as help mothers and newborns through pregnancy and delivery. Sunday Vanguard examines the perspectives.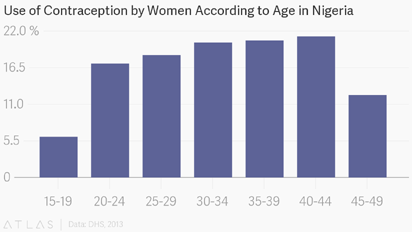 The experience of 35-year-old Bola Afeez is better imagined than experienced. Her experience questions the needless controversy over contraceptive use in Nigeria.
Married in 2000, Bola's dream was to have not more than three children.   This is because she had plans to further her education, since she could not go to the university following the inability of her parents to sponsor her financially. This she discussed with her husband, Taju, and both of them agreed. But it was not to be. They ended up having more children than they planned.   With six children, everyone expected that it was more than enough.   Bola and Taju, apparently due to their religious belief, never attempted to have anything to do with modern contraceptives.
But just like other normal couple, Bola and Taju continued to have sex until the worst happened. Bola became pregnant for her seventh child. "It was a painful experience", Taju told Sunday Vanguard.   "May her soul rest in peace".
The husband, filled with regrets, said that if his wife had been on modern contraceptive, perhaps she would have been alive today.
"Bola died in the course of giving birth to the seventh child due to obstructed labour. The doctor had warned after she had our sixth child. We had two abortions before the pregnancy that claimed her life." Bola is one of the 576 women that die from child birth in every 100, 000 live births in Nigeria.
For 32 year-old Ukachi Egbuniwe, it was a narrow escape. The birth of her first child left an indelible mark in her life.
Ukachi had experienced two years of loneliness due to obstructed fistula; a condition associated with leakage of urine and/or defecation uncontrollably. She was repaired at the National Fistula Hospital, Abakaliki, Ebonyi State.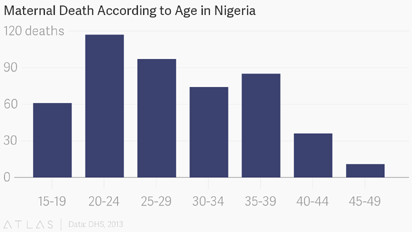 Like every other client, medical experts at centre immediately introduced her to family planning to enable proper healing and adequate spacing for another pregnancy. However, her introduction to family planning gave her another reason to believe in the process.
Ukachi became an ambassador of family planning. She had spaced their three children with two-year intervals before the fourth pregnancy.
Ukachi never knew the importance of modern contraceptive methods before the incident. Today, she and her husband are maintaining a healthy sex life. "Before now, I only knew about withdrawal method which most times denied me the pleasure of enjoying sex but, today, it is different."
According to a new study published by the Guttmacher Institute, contraceptive services and maternal and newborn health (MNH) services fall far short of needs in developing regions like Nigeria. The study, tagged, "Adding It Up: Investing in Contraception and Maternal and Newborn Health, 2017", noted that although half of 1.6 billion women of reproductive age (15–49) living in developing regions want to avoid a pregnancy, 214 million of them are not using a modern contraceptive method.
Noting disparities in maternal and newborn healthcare across region, the report stated that of the 127 million women who give birth each year in developing regions, many do not receive essential maternal and newborn health care. For instance, only 56 per cent of women giving birth in Africa deliver in a health facility, compared with 91 per cent in Latin America and the Caribbean, a situation health watchers are worried could be fuelling already unacceptable maternal mortality rate in developing countries.
According to a gynaecologist at Lagos University Teaching Hospital, LUTH, Dr. Juliet Offor, family planning and child spacing is one of the most effective ways of reducing maternal deaths arising from preventable causes.
Offor said that women who practise family planning could avoid high-risk births and avoid having a baby that would die in infancy. She said that many middle aged poor women suffer from anaemia, malnutrition and damage to their reproductive systems from frequent child bearing.
The gynaecologist explained that without family planning, the conditions increased the likelihood of having a baby who would die in infancy. Family planning, she stressed allows a woman to choose when to become pregnant and determine the number of children she will have while relieving the parents of financial stress of caring for a large family size. "Women who embrace and practise family planning are able to have healthy child spacing and prevent ill-timed pregnancies and births. It provides the woman the opportunity to pursue a career and have paid employment", she stated.
"Men should be supportive of their wives in accessing the facilities. Religious leaders and the general public are also needed to resolve myths and prejudice about family planning."
The Chairman of the National Population Commission, NPC, Mr. Eze Duruiheoma, echoed similar view when he said that although family planning can reduce maternal mortality in Nigeria, private sector facilities continue to be the chief providers of contraceptive methods in the country.   According to him, 60 per cent of users of modern contraceptive methods obtain them from the private sector.
To him, all the massive investments in building social and physical infrastructure, healthcare, education and other critical sectors of our national life will not yield maximum benefits unless the women and girl – child have unfettered access to sexual and reproductive information and services.
He said the contraceptive provided by UNFPA in 2016 had the potential to prevent 11.7 million unintended pregnancies, close to 3.7 million unsafe abortions and prevent an estimated 29, 000 maternal deaths in the country.
"Universal access to voluntary family planning can reduce maternal deaths by a third and child deaths by as much as 20 per cent. Family planning has continued to receive wrong interpretations in spite of the fact that the two major religions, Christianity and Islam, enjoin parents to cater for the well – being of their children", the NPC boss said.
"Fulfilling their unmet demand will save lives by averting 60 million unintended pregnancies around the world and reduce maternal deaths by one third of the estimated 303,000 maternal deaths that occurred in 2016.
"Although modern contraceptive use has nearly doubled worldwide from 36 per cent in 1970 to 64 per cent in 2016, we still have a long way to go to ensure that all women enjoy their right to decide whether, when or how often to become pregnant."
He said the 2013 Nigeria Demographic Health Survey (NDHS) revealed that unmet need for family planning was 16 per cent among married women. He, therefore, urged the federal, state and local governments to invest more in the provision of sexual and reproductive services to the vast majority of the people.
Meanwhile, the Programme Director, Strategy of the Pharmaceutical Society of Nigeria Partnership for Advocacy in Child and Family Health, PSN-PACFaH, Mr. Remi Adeseun, Nigeria contributed 15 per cent of global maternal deaths. Adeseun traced the unacceptable and preventable maternal mortality rate to high unintended pregnancies, socio-economic factors and low use of modern contraceptives.
According to him, this rate can be drastically reduced through increased access and uptake of modern family planning commodities and services.
"With increased access to contraceptives, the unacceptable maternal mortality rate of 576 per 100,000 live births, 111 women and girls deaths daily, the double digit FP unmet needs of 16 per cent will improve. It will also improve low contraceptive prevalence rate of 15 per cent as well as infant and child mortality figures", he said.
At an event, Coordinator, Lagos State Ministry of Health Reproductive Health Coordinator, Dr. Saidat Okaga, said FP can prevent about 34 per cent of Nigeria's maternal mortality and morbidity incidence if government at all levels will embrace contraceptive use.
The Team Leader, Nigerian Urban Reproductive Health Initiative, NURHI, Dr. Omasanjuwa Edun, also regretted that FP is still seen by majority of Nigerians as a method of preventing child birth, noting that people are yet to appreciate the link between FP and maternal health and mortality.
"FP goes beyond saving the life of a woman who normally might have died from an unwanted pregnancy, especially for those who have reached the limit of the number of children they want to have.
"FP also saves women the extra burden of carrying risk-associated pregnancies particularly the unplanned ones.   It takes two years for a woman to go back to her pre-pregnancy stage after each delivery and FP affords the woman this chance, which is why it improves maternal health.
"Lots of awareness needs to be done to educate the public that FP is an intervention that would improve the health of women and invariable that of the family and the nation at large."
The FP expert regretted that though it is the only intervention that can aid in the achievement of the Sustainable Development Goals (SDGs) because it affects all the themes in a way or the other, government policies are not encouraging in that regard.
"The country's contraceptive prevalence (CPR) rate is as low as 15.1 per cent and this means that less percentage of women uses any sort of contraceptive methods.
"Once FP becomes normal in our society and everybody can discuss it freely and positively, then our CPR which is the bases for measuring effectiveness of FP in a country would rise and maternal death can reduce".
The post Sex without pills: Nigeria could have prevented 11.7million unwanted pregnancies in 2016 alone – UN report appeared first on Vanguard News.