Furtherance to its efforts aimed at empowering women and promoting healthy eating habits amongst women and teenage girls of reproductive age, Unilever Nigeria Plc has entered into a strategic partnership with the Kaduna State government to launch a two- pronged campaign with the ultimate goal of enhancing livelihoods and helping people take action to improve their health and well-being.
The partnership programmes; Knorr Force for Good and Women's Empowerment Shakti, was announced at Government Girls Secondary School, Maimuna, Gwazo, Kaduna, with the Wife of the Governor of Kaduna State, Mrs. Aisha Ummi Garba El-RufaI, top government officials, dignitaries and top management staff of Unilever in attendance.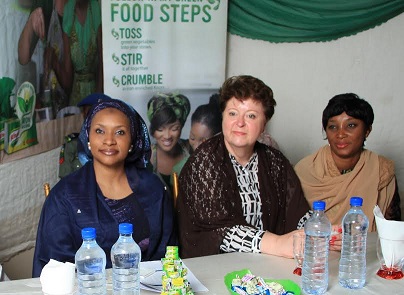 Shakti is a Women Empowerment Programme, which seeks to address unemployment and reduce poverty trends in the state by empowering women who have entrepreneurial drive but with no access to funds. Knorr force for good is a social mission initiative and a brainchild of Unilever's popular seasoning brand, Knorr.
The initiative seeks to create awareness and champion the fight against iron deficiency amongst women and their
daughters while also using the opportunity to educate them on nutritious cooking through a behavioural change programme.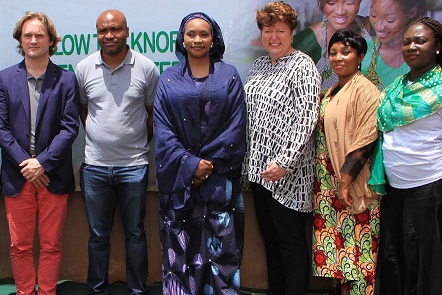 Speaking during the event, Wife of His Excellency, Mrs. Aisha Ummi Garba El-Rufai, expressed delight about the partnership, describing it as timely and needful. She thanked the management of Unilever Nigeria Plc, for choosing to visit the State and expressed confidence in the positive impact the partnership will yield to both parties.
In her words,'The women of Kaduna state are most elated that Unilever Nigeria Plc through her programs places high importance on nutrition and women empowerment. This partnership will go a long way in addressing poor nutrition and improving the livelihood of women in Kaduna state'.
Reacting to this, Senior Vice President, Unilever Global, Savoury Cathryn Sleight, explained that the partnership is one that the company truly values as it is aligned with the company's vision of improving the lives of Nigerians. 'For us at Unilever, we believe that businesses must be part of the solution to social challenges, and this is why our business model focuses on tackling issues the world faces with our brands and operations.
"We're working with key partners all over the world to shine a light on some of the global issues that impact the planet and everyone on it. This awareness is what we are spreading across various states in Nigeria and we intend to do more".
Representing Nsima Ogedi-Alakwe – Marketing Director, Foods, Unilever Nigeria & Ghana, Nnenna Osi-Anugwa, Marketing Manager Savoury, Unilever Nigeria & Ghana, in her speech at the event; said, 'Anaemia is a major health issue among women and young female adults in Nigeria and it is caused by a lack of iron.
According to reports by World Health Organisation (WHO), 49% women of reproductive age have anaemia, indicating that majority of the adolescent girls and women did not meet the iron requirements of 20 milligrams per day as recommended by the Food and Agricultural Organisation (FAO).
This is what we hope to change in Nigeria by introducing women and their daughters to the Knorr Green Food Steps, which underscores the importance of vegetables in meals. We are happy that this partnership allows us to further our advocacy for iron-enriched meals as a means to fighting iron deficiency anaemia.
At the event, the students were trained on simple and easy ways to cook nutritious meals that will help them fight iron deficiency anaemia.
Also, the Shakti women entrepreneurs were trained on basic finance skills and were empowered with means to set up their own businesses including start off 'loan' of Unilever products.
Speaking on Shakti, Unilever Nigeria's Women Empowerment Manager, Mrs. Aviv Okwonkwo expressed that Shakti was created to empower women, and help address unemployment and poverty trends in Nigeria. "SHAKTI's objective is to lift women's self- esteem, confidence and their abilities to support themselves and their families.
The program has successfully moved women who were earning next to nothing to micro- entrepreneurs earning a steady income. The programme is helping to create jobs in rural communities, providing these communities with brands to improve their overall hygiene and nutrition."
Also present at the event were Frank Harasnape, Vice President Foods Africa; James Jakachira, Savoury Director Africa; Folake Awe Customer & Channel Development Manager Unilever Nigeria, Ayodele Alabi, Sustainable Business Manager, Unilever, Ghana, Nigeria, amongst others.
Over the last two years, Unilever has taken the fight against iron deficiency anemia to several schools in different cities across Nigeria including Abeokuta, Sagamu, Sango Ota, Ijebu Ode, Benue, Abuja, etc. SHAKTI which started with 100 beneficiaries in Oyo state, now has over 2000 women registered in 10 states across Nigeria (Enugu, Anambra, Edo, Delta, Imo, Ebonyi, Benue, Nasarawa, Ogun, and Oyo), with Kaduna as the 11th.
The post Unilever partners Kaduna Govt to empower women, teenage girls appeared first on Vanguard News.