PORT HARCOURT – Governor Nyesom Wike Wednesday addressed a mammoth crowd of People's Democratic party's faithfuls , assuring that the party will return to power in 2019.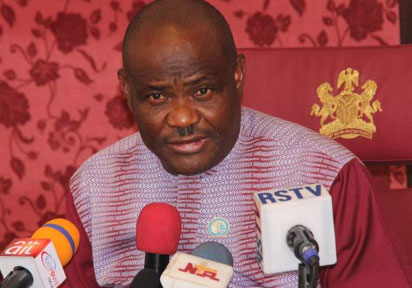 Wike who was very excited over the Supreme court verdict that gave judgement in favor of Senator Ahmed Markafi spoke at the Port Harcourt international airport, blaming the All Progressive Congress, APC for the heightened insecurity in the country, stressing that the APC had failed to deliver on it promises to the nation.
"We have tested them for two years and Nigerians are suffering. Nigerians are dying and there is insecurity everywhere. It has never been like this.This opposition will lead us to power in 2019.
"Now, we have a government and we have a party that says there will be no opposition. If there is no opposition, there will be no democracy ".
He called for prayers for the judiciary.
"We owe them the duty to pray for them. What the judiciary is going through, no other arm of government has ever gone through it. Without judiciary, Nigeria is gone, without judiciary, there is no democracy ", he said.
"All Nigerians are thanking God that PDP is not dead. The PDP is the only hope for the people", he said.
"God has come out to rescue Rivers State and PDP. Nobody can intimidate us", the governor said.
The post Wike celebrates Markafi's victory, says APC has failed appeared first on Vanguard News.