Rev. Michael Ogunbola is the District Superintendent of Assemblies of God Church, Apapa District, Lagos. Recently, well-wishers gathered to celebrate with him as he turned 65. In this interview to mark the birthday, Ogunbola, who is an Executive Council member of the church, narrates his salvation experience. He also speaks on his ministerial journey.
By Olayinka Latona
Coming from a Muslim background, how was your salvation experience?
I was born into a Muslim home. During my teenage years, especially when I was fifteen, I experienced crisis in my life which started with some questions that bordererd on life after death.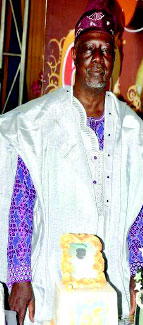 My Muslim background  taught me that if your bad is more than your good, you will not make paradise.   Because I knew I was not living right, I was haunted by the spirit and fear of life after death. This pushed me into joining the school fellowship to mend my ways and I was reading the Bible based on what we were taught in the fellowship.
But I needed something beyond fellowship teaching. In 1967, I had an encounter with Jehovah Witnesses and joined  them because what they said appealed to me than what I was taught in Islam. Consequently, I began to do things according to their style but when I came back home, people kept laughing at me. With the threat (and jest) from home, mostly from my father, which I was afraid he would carry out, I dropped out of the Jehovah Witnesses.
In 1968, I went to another town to learn a trade.  There, I was attracted to a church because of a book given to me by a small girl. I saw something that was different from my previous knowledge of the Bible. When I asked for the book, the girl refused to give me, saying if  I needed the book I should come to her church.
I desired to have the book as my own, so I went to the church. Their mode of worship was the type I had not seen before and my many questions and fears about life vanished immediately;  it was the defining moment of my life. That was the second Sunday of June 1968, when I gave my life to Jesus Christ.
In the ministerial work
It has been rough but  God's grace has kept me going. Rough in the sense that the road to success is never smooth but, tough as it was, God's grace has been sufficient and I give thanks and all the glory to Him.
What brought about your passion for mission work?
It is a commandment from God which every child of God should be passionate about. What else can a child of God do than to win souls for the kingdom? I have been involved in soul-winning and mission from my conversion.
What has been sustaining you and what is your advice to other clerics?
One thing that matters to all of us is our relationship with God. When I met Christ, it was a complete turnaround and I gave myself fully to God and to His word and, as such, the word impacted on me. Whatever you see of me today is the product of God's word and what the Holy Spirit did in my life.
I believe in being focused. The statement that God made about Caleb is what I will ask every believer to seek. It was said of Caleb that he followed God with all his heart and that is why God promised him the land of Canaan. The younger ones should follow God with all their hearts, with utmost devotion, release the future into the hand of God.
I will not describe myself as a success but God's grace has worked for me. I have been able to climb to a level I never dreamt of in life. I did not get there by my efforts but through the grace of God.   As ministers of God, we should be steady and patient in our service to God. It is only through patience that we can obtain God's promise.
There is nothing like 'quick-quick'. It took Israel years to get to the Promised Land, but when they got there, they were sure that the land belonged to them because God keeps His words. Also as ambassadors of Christ, we have to live a life that is regulated by the word of God and not by our desires, and God's blessing will follow us.
When I came into the ministry, I did not have the desire for worldly things; my desire was to serve God  and God has blessed me even though I do not have millions of Naira, He has blessed me with good health, happy family and other things of life that I never thought I could have in life.
Do you believe in Church branding?
The goal of rebranding is to influence a customer's perception about a product or service or the company overall, by revitalizing the  brand, making it seem more modern and relevant to the customer's needs. Churches cannot remain static and expect to be accepted by the people.
Manufacturers of products engage in redesigning and rebranding their products because they want to be relevant to customers.  I believe churches should also rebrand but still present the truth undiluted, come up with programmes and events that will make fellowship better and inspiring.
However, I do not subscribe to comedy and jokes on the altar. We should stop bringing comedy shows and jokes into the church system. The Bible calls the church the pillar of truth. Those who bring comedians to the Church only expose the congregation to spiritual danger.
The Church of God should stand on the truth, preach undiluted word of God, be an agent of positive change; it should not mingle with the world but rather correct the   ills in the society. Christians should live by the precepts of the word of God.
Our lights should shine for darkness to disappear, and we should practice the details of the Bible, which is the change the world needs. Even if all the members of the Church engage in politics, it will be a messy drive if we do not exhibit Christ's lifestyle.
Your assessment of Buhari's Presidency
We are expecting too much from the President. One person cannot change the nation, only God through our collective good efforts can. The citizens must take responsibility to make the nation better. If we all act rightly, we shall all rejoice. See the  revelations from the whistle blowing policy, we are in a big mess and we must resolve to be good citizens in order to make our nation great again.
Advice to Nigerians
Generally, what I discovered about most Nigerians is that we are religious but we are not godly and the Bible says it is only godliness that can exalt a nation. Religion does not exalt any nation, what religion does is that it produces hypocrites. I will advise that we should be godly; a godly man will be considerate of others in whatever he or she does. A godly man will always be conscious of whatever he is doing and do a rethink, if his action will not affect his  neighbour positively, while a religious person will hide under the umbrella of religion to commit evil"
To leaders
Our leaders must always remember they are there not to serve themselves but to serve the people. And I believe in leadership by example. A leader is a servant, he or she is there to serve the people. They must not forget that when they canvass for vote and people vote for them, it would be wrong for them to betray the trust they have been given. Our leaders must not forget that they are there for the people and not to enrich themselves.
The post 'Comedians expose the Church to spiritual danger' appeared first on Vanguard News.