By Egufe Yafugborhi
WARRI – ITSEKIRI scholar, Dr. Jackson Ireyefoju Sunday said the mass protest which has marred His Majesty, Ogiame Ikenwoli, the Olu of Warri's intention to install Chief Ayiri Emami as Ologbotsere (Prime Minister) of Warri kingdom was procedurally wrong and morally unfair.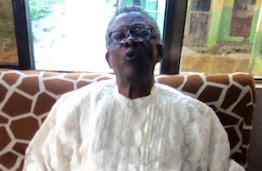 Ireyefoju said this in Warri, Delta state, following his presence at the Ugbarajo, Omajaja, a gathering of Itsekiri masses to restate the rejection of Emami and preempt the monarch's preference for another unwanted candidate for the exalted Ologbotsere title.
He said, "I was invited and had to attend the gathering, first to question the term Omajaja as the group identity for some of those invited. I have been in court for sometime, seeking to expunge that word "Omajaja" from Itsekiri lexicon for lacking any bearing or context in any statute governing us as a people."
On the Chieftaincy controversy, Dr. Ireyefoju said, "I have no business joining issues with whoever has anything against Ayiri as a person. I am not by any means saying he must be chosen. My worry is whether those agitating against his choice as Ologbotsere are justified or even have the right to.
"In over five century existence of the Itsekiri monarchy, only three Ologbotseres have been installed and the common procedure is that the descendants of Ologbotsere reserve the right to choose and recommend who they want to the Olu. It has never been the right of the general Itsekiri masses to choose who becomes.
"The question they protesters have refused to answer is, if Ayiri was chosen by a participatory committee of the descendants of Ologbotsere and the Olu decided to install him based on that due process, why are those who should not be part of that process agitating? It beats my imagination."
The post Ologbotsere: Protest against Olu, Ayiri procedurally wrong, morally unfair – Dr. Ireyefoju appeared first on Vanguard News.