After a knock-down, drag-out brawl with Wladimir Klitschko, Anthony Joshua doesn't want to make his mandatory title defence against Kubrat Pulev any more taxing than necessary. The huge heavyweight champion has been working with trainer Rob McCracken on the mistakes he made, particularly defensively, during his eventual 11th-round stoppage of Klitschko on April 29 in London.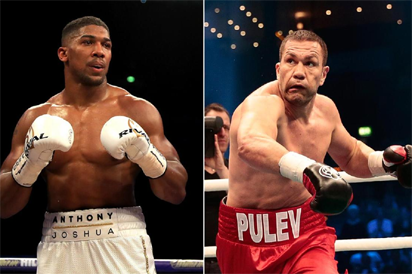 Klitschko dropped a seemingly punched-out Joshua in the sixth round of that memorable battle, but Joshua got his second wind and knocked down Klitschko for the second and third times in the 11th round.
The 6-feet-6, 250-pound Joshua (19-0, 19 KOs) hopes to show against Bulgaria's Pulev (25-1, 13 KOs) what he has learned from the Klitschko fight, which nearly cost the British superstar his unblemished record and his heavyweight titles. The IBF/IBO/WBA champion said during a press conference Monday in Cardiff, Wales, that he intends to employ a safer, smarter strategy in this mandatory defense of his IBF title October 28.
"I am looking forward to expressing a different approach," Joshua said, according to London's Daily Mail. "I want to show what I have learned from my last fight. It is about finesse and out-classing your opponents. But if I have to go to war, I can go to war. I'm prepared to go into the trenches. But sometimes I can be smart and wise, and take an opponent out without going to the trenches. I just look for the win one way or the other."
The 2012 Olympic gold medalist has already watched plenty of footage of the 6-feet-4, 255-pound Pulev, but the 27-year-old champion expects to encounter an extremely motivated contender next month at Principality Stadium in Cardiff.
"I learned that sometimes you can watch a million videos of your opponent," Joshua said. "But it is always different when you step into the ring. I am starting to understand that when people come and fight me, I have to be prepared for the strongest challengers. It is not so much about making a statement to anyone. It is just showing what I have learned."
The post Joshua ready for 'war,' against Pulev appeared first on Vanguard News.