By Omeiza Ajayi
ABUJA—FOLLOWING the devastating floods that have so far ravaged 27 states this year, National Emergency Management Agency, NEMA, has again warned communities along the River Niger to move to higher grounds to avoid further devastation and a possible humanitarian crisis.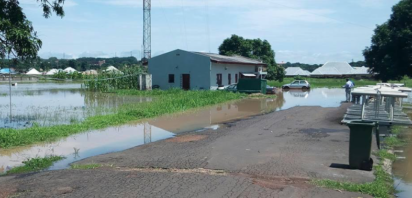 Director General of NEMA, Mr Mustapha Maihaja, gave the warning, Wednesday, in Abuja.
Maihaja said: "The National Emergency Management Agency is hereby alerting the general public, particularly those resident along the River Niger and its tributaries in Kebbi, Niger, Kogi, Anambra, Delta, Imo, Rivers and Bayelsa states of very high risk of catastrophic flooding in coming days and weeks.
"Following this year's seasonal rainfall forecast by Nigerian Meteorological Agency, NIMET, in March 2017 and hydrological outlook by the Nigeria Hydrological Services Agency, NIHSA, of possible flood that will affect many states of the federation, NEMA sent out alert warning to the identified states and called them to scale-up their preparedness to avert imminent consequences. As a result of this, already 27 states have experienced very devastating flood disaster.
"There again is another alert of an emergency warning from the Niger Basin Authority (an intergovernmental organisation in West Africa aiming to foster cooperation in managing and developing the resources of the basin of the River Niger) and confirmed by the Nigeria Hydrological Services Agency, NIHSA, of the rising water levels in Niger, which has been at 'Orange Alert level' consistently for the past seven days. The Orange Alert is the second most severe category in measurement.
"In the light of the above, the Agency organised a flood coordination forum held today (yesterday) and is therefore calling on the general public in the aforementioned areas to move to higher grounds and the respective state governments to engage in sensitisation, evacuation and preparation for possible flooding.
"However, NEMA wishes to confirm its readiness in emergency response. Its Emergency Response Teams have been placed on high alert in the areas to coordinate all possible emergency response activities, and assist relevant stakeholders for effective evacuation of the communities."
The post Move to higher grounds, NEMA warns communities along River Niger appeared first on Vanguard News.