The Socio-Economic Rights and Accountability Project (SERAP) has urged the President of the Senate, Dr. Bukola Saraki and the Speaker of the House of Representatives, Mr. Yakubu Dogara to "Urgently withdraw the patently unconstitutional directives to some banks to unfreeze former First Lady Mrs. Patience Jonathan's accounts."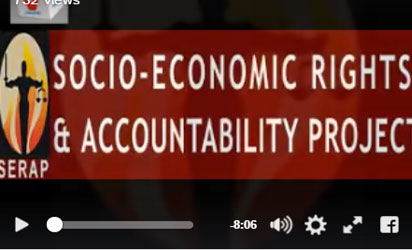 The organization said that, "the directives to banks to unfreeze Mrs. Jonathan's accounts amount to mingling of the executive and judicial powers in the National Assembly."
It said "Checks and balances should ideally help contribute to the rule of law and strengthening our democratic dispensation but if one branch of government grows too strong and overreaching, the country might be in trouble."
In a statement today signed by SERAP's deputy director, Timothy Adewale, the organization said, "It's an affront to our constitutional democracy for the National Assembly to turn itself into a tool for checkmating the country's justice system, especially the prosecution of grand corruption."
SERAP also said that "rather than helping Mrs. Jonathan's desire to achieve justice for what she may consider to be violations of her human rights, such directives are doing exactly the opposite and politicising the criminal justice process."
The Senate had last week directed that Mrs. Jonathan's accounts be unfrozen, saying that some of the accounts including those with Stanbic IBTC, First Bank, Union Bank, Diamond Bank, Fidelity Bank, Ecobank and Zenith Bank were frozen based on some administrative lapses.
The senate had also claimed that the Economic and Financial Crimes Commission (EFCC) used the banks to close the accounts without due process of law.
Also, the House of Representatives, in September, had given a similar directive to the banks to free the former first lady's blocked accounts.
But SERAP, in the statement, said that, "Nigerians are concerned about their lawmakers' thirst for power, and about the National Assembly aggrandizing its legislative powers without sufficient checks and constitutional scrutiny and validity."
It urged, however, that "the National Assembly ought to focus the exercise of its legislative powers solely on making laws for the peace, order and good government of our country, addressing only matters of prime national concern, and when necessary, checking the excesses of the executive branch."
The statement reads in part: "The directives purportedly unfreezing the accounts of Mrs Jonathan will not give the public the confidence that the National Assembly will change its ways and embrace the rule of law."
"The National Assembly should not show itself as incapable and unwilling to address the concerns of Nigerians about its operations and apparent lack of transparency. These kinds of interventions by the National Assembly could portray our lawmakers in the eyes of Nigerians as forgetting what they are in Abuja to do."
"The Senate and House of Representatives should advise Mrs Jonathan to seek appropriate judicial remedies if she feels the criminal justice mechanisms have violated her human rights. That's the essence of the rule of law, separation of powers and checks and balances. The supposed directives to banks have unfortunately again put the reputation of the National Assembly at stake."
"What Nigerians want and deserve is a balanced sharing of constitutional powers for the sake of the public good, and not 'Imperial National Assembly', a National Assembly that sits on its throne in Abuja and treats Nigerians as serfs in their fiefdoms."
"If the body that makes law also controls its execution, implementation and interpretation, it can effectively tailor the laws to help itself and its friends and hurt its perceived enemies. It can thwart the virtue of impartial general law-making by rendering it a tool for singling out."
The post SERAP to Saraki, Dogara: Withdraw directives ordering banks to unfreeze Patience Jonathan's accounts appeared first on Vanguard News.