By Henry Umoru
ABUJA—THE Senate  said yesterday that the immediate past Senate Leader, Senator  Mohammed Ali Ndume, APC, Borno South who has been away from the Senate Chambers for eight months following his suspension in March, would resume today without prejudice to court process.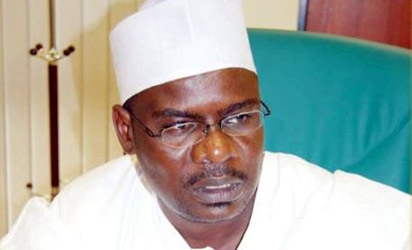 Disclosing this after  a 10 minutes executive session by the senators, Deputy Senate President Ike Ekweremadu, who presided over plenary, said Senator Ndume would resume   plenary session today.
Ekweremadu said: "We discussed the suspension of Ndume and we resolved that he should resume to day since he has served 90 days without prejudice to the current court process."
A Federal High Court in Abuja Friday voided the suspension of Senator Mohammed Ali Ndume, saying the suspension was against the law and directed that the Senate President, Senator Bukola Saraki should ensure prompt payment of Ndume's salaries and allowances.
Meanwhile, counsel to the Senate, Chief Mike Ozekhome (SAN), has appealed the judgment, saying that the Senate respectfully disagreed with the judgment.
The Senate had on 29th March, 2017 suspended Senator Ali Ndume, APC, Borno South for a period of six months for bringing the Senate as an Institution to what it termed, an unbearable disrepute at this time of the country's national life.
The post 8 months after: Ndume'll resume today without prejudice to court process — Senate appeared first on Vanguard News.