Perez Brisibe
UGHELLI – EX-militants under the aegis of United Niger Delta Ex-agitators and Leaders Forum, Friday took a swipe at the Chief Edwin Clark led Pan Niger Delta Forum, PANDEF stressing that leaders of the group are using it seek political recognition to the detriment of the region.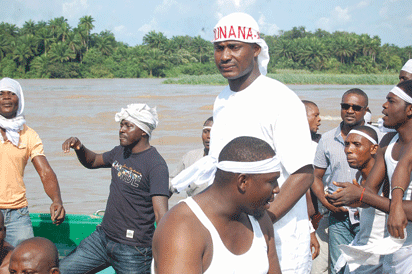 The ex-militants led by Monday Yerindideke also drummed their support for the Pan Niger Delta Peoples Congress, PNDPC led by HRM Pere Charles Ayemi Botu whom they described as a man with the leadership prowess and administrative competence to bring uncommon transformation to our region.
Speaking to Saturday Vanguard yesterday, Yerindideke acted that the people of the Niger Delta region have lost confidence in Chief Clark and his PANDEF group.
He said: "It would be recalled that PANDEF gave an ultimatum to the federal government over the take off of the Maritime University and unceremoniously withdrew the ultimatum without informing the people of the region on reason for its decision.
"In all its dealings with the federal government, PANDEF has not deemed it fit to call a stakeholders meeting to brief the people so as to chart a way forward. It is based on this that we are calling on other ex-agitators to withdraw their support for PANDEF and queue behind PNDPC."
The post Ex-militants lampoons PANDEF, drums support for PNDPC appeared first on Vanguard News.