By Jimitota Onoyume
PORT HAR-COURT— Rivers State Police Commissioner, Mr. Zaki Ahmed, has dismissed as untrue, allegations by Governor Nyesom Wike and the Minister of Transportation, Mr Chibuike Amaechi,  that there were attempts on their lives on Trans Amadi road last Saturday   when their   convoys ran into each other.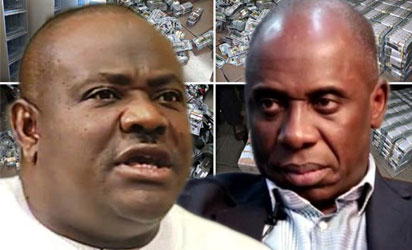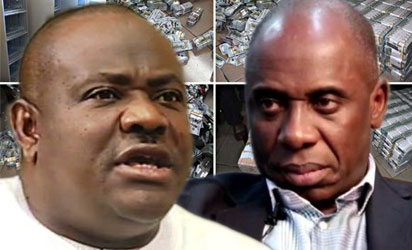 The Police chief confirmed that there was slight altercation around the scene of the incident but quickly added that it did not amount to threat on any life.
His statement reads: ''I have called this meeting to clear the air on allegations and counter allegations making the rounds of alleged assassination plot by two notable figures in the country, in the persons of His Excellency Chief (Barr) Nyesom   E. Wike, the Executive Governor of Rivers State and Rt. (Hon) Chibuike Rotimi Amaechi, the Honourable Minister of Transportation, following a minor traffic infraction along Nkpogu   roundabout, Port Harcourt. For purposes of putting the records straight and in view of the public outcry in the Media, which greeted these claims, I hereby make the following clarifications;
''That on 11/11/2017 at about 1500hrs at Nkpogu junction, while the Hon. Minister of Transportation was passing through Elekahia to Nkpogu and at Nkpogu roundabout, a Police outrider in the convoy of His Excellency intercepted the Black Lexus 750 Jeep the Minister was driving just as it was about negotiating the roundabout. The outrider was there to make way for the on coming convoy of His Excellency which was about 400 metres away.
''Police Investigation report revealed that two of the Minister's convoy vehicles were already ahead of him while he was intercepted and stopped by the outrider. It is not known how the outrider fell off his bike as dent marks on the Lexus 750 Jeep were seen on the passenger's side of the car. A rowdy situation now followed with the Minister ferried by security agents away from the scene of the incident. At this point, the Governor's convoy was not within reach to the scene of this incident.
The Governor's convoy eventually arrived the scene without the Minister.
Questions were thereafter asked by the Governor's entourage as to what happened while the last lap of Policemen from the Minister's convoy were questioned by the CSO to the governor as to their presence at that location and material time.
"I want to make it abundantly clear that all acts of misconduct by any policeman in the course of this incident will be thoroughly investigated and appropriate disciplinary action taken against any person  found wanting."
The post No attempt to assassinate Wike, Amaechi — Rivers CP appeared first on Vanguard News.