By Dayo Johnson
Akure—AN early morning inferno, yesterday, razed many shops in Akure, the Ondo State capital, destroying goods and properties worth millions of Naira, leaving traders in tears.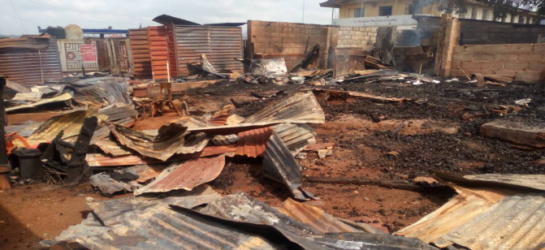 Owners of the shops, Vanguard gathered, had just stocked them ahead of the Christmas and New Year festivities.
Eyewitness account had it that the inferno, which started around 2a.m., consumed shops located around roadblock junction opposite an eatery and spread to other locked up shops.
The eyewitness added that about 20 shops were razed by the fire incident.
Sources, however, hinted that the outbreak may be as a result of power surge in the area, as the fire was first noticed from one of the shops before gradually spreading to other locked up shops.
The state fire service, according to the victims, responded late to distress calls, and the efforts of the shop owners and other sympathisers could not save the goods in the shops as the fire raged.
Owners of the goods and property were lamenting their losses when Vanguard visited the scene yesterday after the incident.
They wailed uncontrollably even as passers-by commiserated with them.
Items destroyed include tailoring materials, cosmetics, foodstuffs, building materials, electronics, cements, household varieties among others.
Victims' tales
Speaking with newsmen, one of the shop owners Paul Emmanuel, said: "I was called at 4a.m. and told that fire has gutted my shops at Roadblock Junction.
"By the time I got there, my shops and the others have been razed. So many goods worth millions of Naira have been lost here today (yesterday) and it is very sad as Christmas is around the corner.
"We called the Fire Service office, but they didn't pick their calls on time; we had to drive down to drag them here."
Another trader, Abimbola Adesanya, described the fire incident as unfortunate, adding that goods worth millions of Naira were lost.
Adesanya pleaded with the government to assist the affected traders with any financial plans in recovery their trades.
She said: "We are begging Governor Rotimi Akeredolu to assist us because millions of Naira has been lost to this fire attack.
"Imagine, Christmas is around the corner and we had stocked our shops ahead of the Yuletide trade. Where do we start from now or where do we go from here? This is tragic."
The post Traders wail, as fire razes Ondo shops, destroying yuletide stock appeared first on Vanguard News.