By Emma Nnadozie, Crime Editor
Like a clairvoyant, Lagos  State Commissioner of Police, Imohimi Edgal, held the bull by the horns, just few weeks after assuming office at the command headquarters, Ikeja.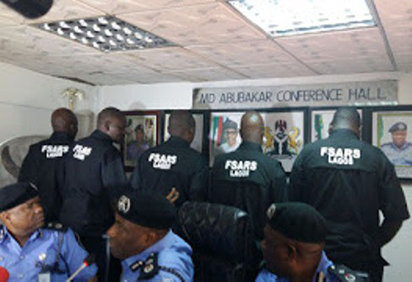 He set up a committee under the chairmanship of a retired ebullient Commissioner of Police, to appraise the workings of policemen attached to the Special Anti-Robbery Squad, SARS, and make recommendations for improvement.
The committee which had as members, both policemen, Journalists and members of Non-governmental Organisations, NGO's, swung into action and submitted their report within the given period of two weeks.
While receiving the volumnious report, the state police commissioner stated unequivocally that he would start immediately applying some of the recommendations which are within the purview of his command while those meant for higher authorities will be passed to them for action.
#EndSARS Campaign
Surprisingly, just few days after this, there was an uproarious call nationwide for the scrapping of the anti crime unit by some concerned Nigerians under the aegis of #End SARS.
The agitation which was widely publicised on the internet elicited wide and wild responses  leading to an immediate response by police authorities in Abuja.
Interestingly, while a group was agitating for the scrapping of SARS, another group was calling for re-organisation of the outfit. Both groups clashed at different venues while canvassing for support.
The Inspector-General of police, Ibrahim Idris responded quickly to the outburst by announcing the re-organisation and centralization of the crime outfit with a Commissioner of Police at the helm of affairs.  Implicitly, he stopped the crime outfit from operating in divisions, Area Commands but invested all the powers of command to a Commissioner of police who will be at the Force Headquarters, Abuja.
However, beneath this seemingly welcome response by the police boss in Abuja, many of those clamouring for change remains unmoved.  Unhesitant, they besieged the streets of major cities in the country.  Both groups that was for and against the move continued with their agitation.   No doubt, the agitations against the crime outfit are not misplaced.  The excesses of members of the team are well known.  Their merciless killings and dehumanisation of suspects and, in some cases, innocent Nigerians is alarming and heartrending and calls for urgent review.
Call for restraint
A retired Deputy Inspector-General of Police, Bar. Azubuko Udah, said that much and condemned those calling for the scrapping of SARS.  According to him; the atrocities of a few bad eggs in the police force is not enough for scrapping of SARS because it has not outlived its usefulness. "The wisdom of the IGP who promptly ordered the X-squad department to investigate the allegations levelled against some SARS operatives with a view to reprimanding such officers is commendable.  The performance of some state SARS is below average but I am sure that the IGP's transformation agenda will take care of them."
In the same vein, Crime Reporters Association, CRAN,a body made up of seasoned journalists reporting crime all over the country,  came out with a clincher and stated their stand over the vexatious issue.   In a statement entitled 'Our stand' the beat association said that after a critical appraisal of the agitations, they have concluded that the squad should revert to its former structure if the Nigeria police force is sincere about its reformation.
"They should revert to its former structure where the Deputy Inspector-General of police is in charge at Adeniji-Adele, Lagos office due to the economic importance of Lagos.  The Commissioners of Police in state commands should regain full control of their various SARS and be held accountable for actions and inactions of the outfit.  The FSARS through the DCP in charge in charge in state commands must liaise with the Commissioners of Police when the need arises. With SARS under the command of the police in Abuja and taken instructions from the IGP who does not know what is happening in the states, state Commissioners of police will be rendered toothless bulldogs as officers in their commands may not take instructions from them since they are only answerable to Abuja.  A situation where the state CP's have no control over anti-robbery operatives in their states is appauling and dangerous.  If CP's are given the opportunity to manage their SARS, they would be held accountable by the police high command whenever any abuse of power is reported against the command."
The trigger
Tracing the origin of SARS in the Nigeria Police Force, police sources said the outfit started in Lagos state during the era of Yemi Odubela who was the Commissioner of Police then.  According to sources, it then spread to other states of the federation later based on its effectiveness and efficiency in fighting armed robbery.
"It all started after the gruesome killing of one Colonel Rimdam by the police at a point near Adekunle in Yaba leading to Third Mainland bridge.  It was during the period the notorious and dare-devil armed robbery kingpin, Shina Rambo, was terrorizing Lagos and its environs.  The gang was snatching vehicles and killing people after which they will disappear in a convoy to Benin Republic.  On that day, the gang was operating inside Lagos and policemen were stationed at both entry and exit points out of Lagos.  The men that were posted at the end of Third Mainland Bridge through Adekunle were busy conducting a search at the point while motorists lined up on the road in a gridlock.  The military officer who was on mufti came down from his car to see what created the hold-up only to be mistaken for the notorious armed robber, Shina Rambo and he was shot dead by the policemen on duty there.
It was a thug of war between the police and the military because while the policemen went wild at their station at Panti, jubiliating and parading what they thought was the dead body of the long- sought after criminal, Shina Rambo, the military went berserk, fighting for their own.  It was shocking when the police discovered the real identity of their victim and it sparked trouble.  A panel was set up by government before it was resolved.  The incident consumed the then Commissioner of Police, Yemi Odubela, as he was hurriedly retired from the force.
The Spark
"Before then, he had set up SARS as a special force to fight Shina Ramboi and other violent crimes.  It later spread to other state commands.  He was posted to Lagos by the then IGP, Alliyu Attah based on his capability and reputation as a tough crime fighter.  As soon as he assumed duties in Lagos, he brought one ASP Ben Ohazuluike to Lagos to head SARS which he created to fight Shina Rambo's incursions and criminal exploits.  ASP Ohazuluike recruited one Inspector Ojo Adekola as his second in command and they also recruited eight other gallant officers to fight the battle ahead.  That was in 1991.
"The team worked assiduously to bring robbery and other violent crimes down to the barest minimum in Lagos state.  They confronted the then reigning robbery kingpin, Shina Rambo so many times and succeeded in arresting his second in command, Muyiwa.  That was how they reduced crime in the state then though, they did not succeeded in arresting their leader, Shina Rambo and till date, nobody can say what happened to him afterwards.
"As the Commissioner of Police, Yemi Odubella celebrated the arrest of criminals and compensated operatives appropriately.  He also disciplined erring officers without looking back and by so doing; he was able to maintain a reasonable level of discipline amongst the operatives because he was able to show such erring officers the way out of the force if they break the rules.  He was also in touch constantly with the operatives and he was always there at any given time to answer their calls.
Dress code
"In fact, SARS operatives started wearing T-shirts, caps and ear-rings as a disguise after Shina Rambo's gang were killing policemen daily once they were identified.  So, Odubela fashioned a new method which made it possible for the operatives to dress and look casual. That was why they were able to kill many of the criminals as they could not identify them easily.  Then, we were able to chase them up to their abode in Benin Republic where we narrowly escaped arrest because it was against international law.  Members of the gang were stealing exotic cars in Nigeria and killing the owners.  They will take the cars and sale to top security operatives in Benin Republic who will be seen driving the stolen cars with the same colour and bullet holes openly in their country."
The way out
Generally, security operatives interviewed were of the opinion that reformation is the only panacea to an efficient and effective SARS because, according to them; if police authorities say ok, we will scrap it and re-name it, the work force will still be the same and the bad game will still continue.  They recommended that the best results will be achieved if officers of the outfit should be constantly checked and kept on their toes. "All the problems coming from SARS is about their engagement in other assignments apart from chasing armed robbers.  There are categories of offences like Yahoo boys, 419, land matters etc.  They are not armed robbery cases but SARS men were meddling into such cases thereby creating this noise about their activities.  In so doing, they abdicated in their duties and responsibilities.
"The way police units like Special Fraud Unit, SFU, handle cases are not the way SARS will handle their cases.  There is a conflict here and that leads to abuses.  That is simply where these problems are coming from.  What police authorities need to do urgently is to; mandate all Commissioners of police to ensure that cases are treated by units responsibly for that. SARS should hands off totally,  all cases that are not violent crimes like armed robbery.  The police hierarchy must ensure that a unit does not meddle into areas where it has no responsibility.
Those in-charge of Petroleum products should be allowed to strictly deal with offenders in that regard and stop meddling into other units.  If SARS arrest suspects in crime not related to their section, they should quickly transfer to the relevant unit.  Any unit that goes against these laid down rules should be made to be accountable and seriously penalized.  They should also establish a public complaint bureau to give aggrieved people the opportunity to report all infractions to them so that action will be taken to serve as a deterrent to others. Making SARS responsible to Commissioners of police in Abuja will be counter-productive because no man can handle such enormity of responsibility.  Commissioners of police in their respective states should be made to be accountable for any wrong or abuses by SARS men and must ensure daily supervision.  Such action is saliently taking place in Lagos state command now but people do not know.  If the command should disclose the number of policemen that have been sacked or penalized in SARS and other units for wrong doings, it will raise alarm."
The post #ENDSARS: The intrigues, reality and aftermath appeared first on Vanguard News.