By BOLUWAJI OBAHOPO
LOKOJA – In ventilation of their anger against Kogi State government, the organized labour in the state has cancelled the celebration of tomorrow's workers day otherwise known as May Day.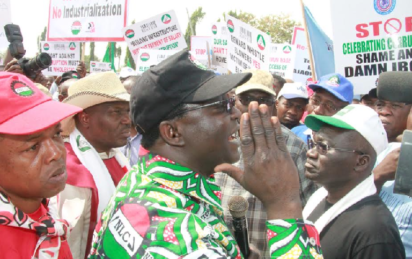 Chairmen of the Nigeria Labour Congress and Trade Union Congress, Onuh Edoka and Ojo Ranti respectively disclosed this Sunday in Lokoja, the state capital.
Edoka said the cancellation of the May Day is to register the displeasure of organized labour on the way and manner the state government has so far deal with its members.
The NLC boss expressed dissatisfaction that the staffs screening appeal and complaint committee report is yet to be made available to the organized labour in order for the Union to come up with its observation, describing it as government antics not to allow labour have details of the report.
He explained that the non payment of salaries to a large number of workers, pensioners over the last fourteen months has destroyed the civil service and the workforce of the state.
"The non payment of salaries and pensions has led to loss of lives bringing untold hardship to the workers in the state."
Edoka frowned at the situation where it has become difficult for civil servants affected by the screening and verification exercise to feed their families and meet other necessary obligations, "In the face of this situation, it is advisable for workers not to make themselves available for any act of molestation, harassment and intimidation by security agencies."
The TUC counterpart lamented the pitiable state of the education sector in the state noting that all tertiary institutions owned by the state government have been on strike in the last four months stressed that there was no serious commitment on the part of the state government to redress the unhealthy situation.
He also debunked the publication on the social media credited to the state government aides that they have paid all workers, said its pure falsehood.
The post Anger: Kogi labour cancels May Day celebration appeared first on Vanguard News.